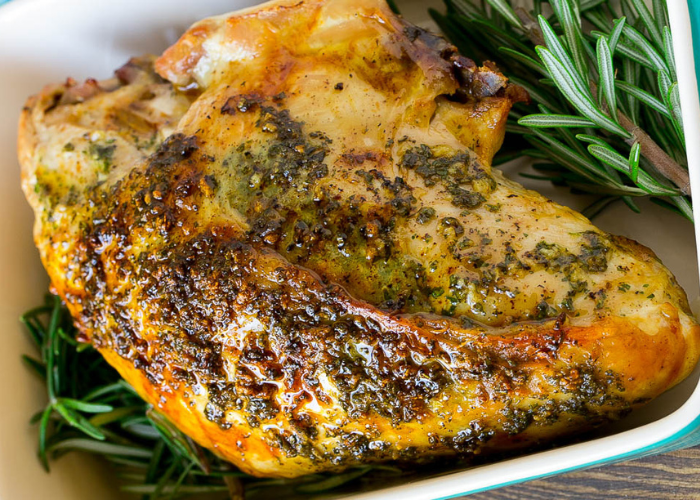 This roasted turkey breast is coated in a savory garlic and herb butter, then baked to golden brown perfection. Perfect for the festive season! 
Serves 6
INGREDIENTS
1.9kg Hogan's Farm Boneless Turkey Breast
4 tablespoons butter, softened
1 teaspoon minced garlic 
1 1/2 teaspoons rosemary leaves, finely minced
1 tablespoon thyme leaves finely minced
2 tablespoons parsley finely minced
Rosemary sprigs for garnish (optional)
From Your Pantry
1 tablespoon sage leaves, finely minced
1 teaspoon salt
1/2 teaspoon pepper
Cooking spray
METHOD
Preheat the oven to 230 C. Coat a baking dish with cooking spray.

Place the butter, garlic, sage, rosemary, thyme, parsley and salt and pepper in a bowl. Stir to combine.

Loosen the skin of the turkey breast. Spread half of the butter underneath the skin of the turkey, and the other half of the butter on top of the turkey breast.

Place the turkey in the baking dish. Bake for 15-20 minutes or until skin has just started to brown.

Reduce the oven temperature to 175 C. Bake for approximately 1 hour, basting occasionally with pan juices. 

Check the temperature of the turkey by inserting a thermometer into the thickest part of the meat. The turkey can come out of the oven when the thermometer registers at least 70 .

Cover the turkey with foil and let it sit for 5-10 minutes

Garnish with rosemary and serve.
Recipe & Image Credit: Dinner at the zoo