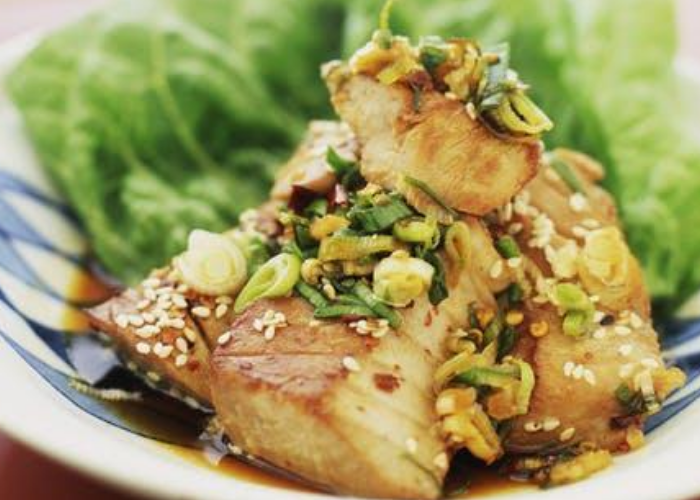 Made with locally available ingredients, this dish is homely and flavourful. 
Serves 4
INGREDIENTS
2 cups Wholegrain Brown Rice
4
Local Barramundi Fillets
3 tablespoons vegetable oil
1 tablespoon fish sauce
1 tablespoon tamari 
Juice of 1
lime
1 teaspoon sugar
2 cloves
garlic
(chopped) 
2 tablespoons
ginger
(chopped) 
1 chilli padi (thinly sliced) (optional) 
2 tablespoons corn flour
2 sprigs coriander 
Sea salt
and pepper to taste
METHOD
Cook the Jasmine Rice and steam the vegetables.
In a small bowl, combine fish sauce, tamari, sugar, lime juice, and chilli. Stir together until smooth and glossy, making sure that the sugar has dissolved and the chilli has been coated in sauce.
Heat 1 tablespoon of vegetable oil in a cast-iron skillet or non-stick frying pan over medium-high heat. Add the chopped garlic and ginger and stir until browned. Remove from the heat and scrape the mixture into the bowl of sauce from Step 2.
Dry the barramundi fish fillets with a paper towel. Lightly season the fillets with salt and pepper then evenly coat in corn flour. Return the skillet/pan to medium heat and drizzle over the 2 tablespoons of vegetable oil. Fry the barramundi fillets in batches until cooked through, approximately 8 - 10 minutes.
Serve the barramundi fillet on a plate and pour over the homemade tamari ginger sauce. Ganish with coriander. Serve with jasmine rice and steamed green vegetables.