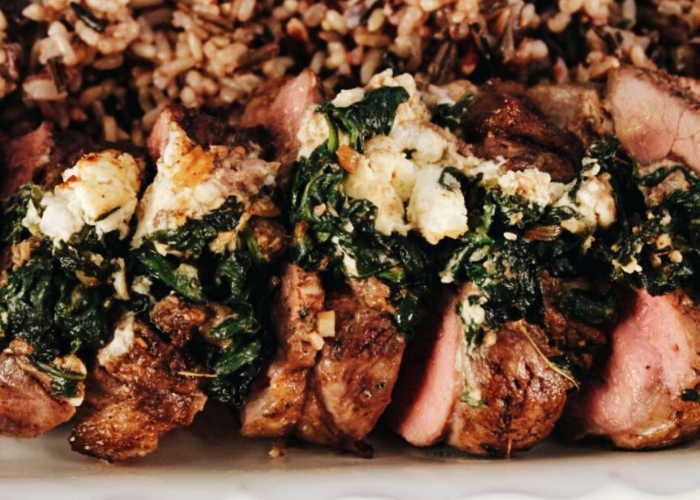 Serves 6 to 8
INGREDIENTS
1.7kg Rhug Estate Organic Welsh Lamb Leg, Boned & Rolled
Vasse Virgin Mild & Delicate Cold Pressed Extra Virgin Olive Oil
1 small onion, peeled and chopped
2 garlic cloves, minced
3 tablespoons pine nuts
350g fresh spinach
120g Goat Cheese
Sea salt and freshly-ground black pepper
1 to 2 tsp sumac to taste or seasoning of your choice
METHOD
Sauté the onion and garlic in a medium-hot pan with a dash of olive oil for 5 minutes until softened. Season, then add the pine nuts and fry for about 1 minute until golden. Add the spinach and wilt briefly in the pan, tossing to mix well. Remove from the heat and stir in the goat cheese. 

Lay the lamb leg open on a board, flesh side up. Season with salt and pepper and sprinkle over the sumac. Spoon the spinach mixture along the middle of the meat, using the fillets that run down the inside length of the meat to support the sides of the stuffing. 

Roll the meat around the filling and tie at intervals with string. Season the outside of the lamb all over, then chill for at least 30 minutes or overnight to help firm it up and make it easier to brown. 

Preheat the oven to 190°C/Gas 5.
Put a roasting tray on the hob and heat until hot. Add 2 tablespoons of oil and fry the joint for 10 minutes until brown all over. Transfer to the preheated oven and cook for 45-55 minutes, depending on how pink you like it. When cooked, set aside to rest.
Serve the rested lamb hot or at room temperature, thickly sliced with a side of roasted vegetables of your choice.
How to stuff lamb

The secret of any stuffing is to part-cook it first. Raw onions and raw garlic will take a long time to cook inside the meat. If you are not going to be roasting the meat immediately, let the stuffing cool before using it. When filling the saddle, put extra stuffing at the edge as some will inevitably squeeze out as you roll, and don't tie it too tightly.