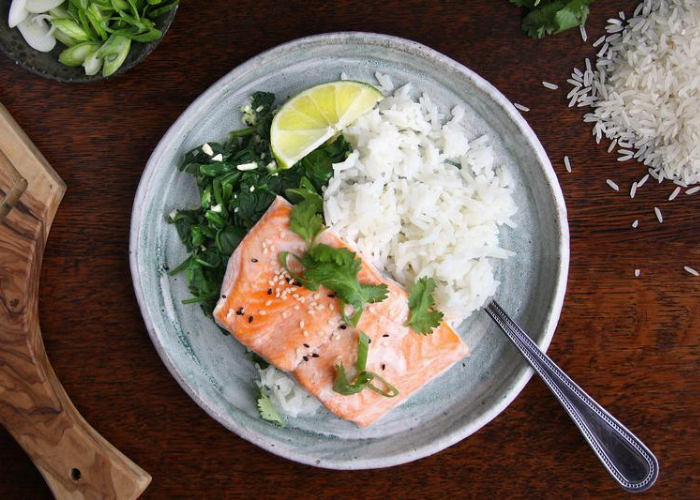 The combination of Thai aromatic ingredients gives this super healthy oven baked trout recipe a wonderful flavour.
Serves 2
INGREDIENTS
2 Chalk Stream English Rainbow Trout Portions
100g Baby Spinach, washed
½ lemongrass stalk, finely chopped
2 cm piece of fresh root ginger
1 garlic clove
100ml coconut milk
2 tbsp lime juice
½ tbsp soft light brown sugar
100g Wholegrain Brown Rice
METHOD
Preheat oven to 200°C. Wash spinach in a bowl. Cook until just wilted with 2 tbs of water. Drain in colander, pressing leaves with the back of the spoon to squeeze out water.
Put cooked spinach in a bowl with the lemongrass, grated ginger and garlic.
Combine the coconut milk, lime juice, sugar and seasoning. Place the trout fillets in a shallow baking dish and pour the coconut mixture over.
Bake in the oven for 15-20 minutes until fish is pale and opaque in colour. Pile steamed Thai rice on to two plates and top with the trout. Add the spinach mix to the baking dish and toss with the juices. Pour over the fish and serve.
Recipe and Image Credit: CHALKSTREAM®️