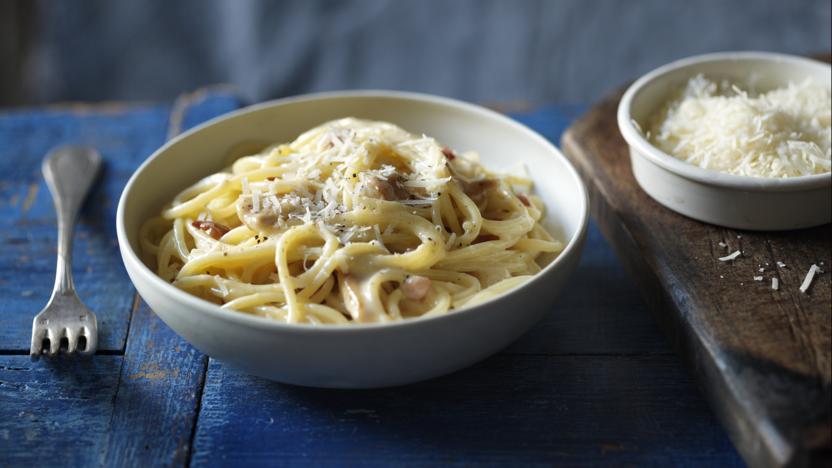 Carbonara makes a wonderful mid-week dinner. Simple, satisfying and ready in 20 minutes - what more could you ask for?
This recipe serves 2. 
Ingredients
1 tbsp 
olive oil
50g 
smoked streaky bacon
, chopped finely
125g/4½oz 
chicken breast
, cut into strips
200g/7oz dried 
spaghetti
2
Eggs
, beaten
2
Egg
yolks
, beaten
75ml double cream
75g Padano cheese, grated, plus extra to serve
freshly ground black pepper 
Method
Heat the oil in a pan over a medium heat. Add the streaky bacon and fry until crisp and golden-brown. Remove from the pan with a slotted spoon and set aside.

Add the chicken to the same pan and fry for 4-5 minutes, or until completely cooked through.

Bring a large pan of salted water to the boil and cook the spaghetti according to packet instructions. Drain, reserving a little of the cooking water.

Put the beaten eggs in a large bowl. Add the spaghetti to the eggs and a little of the reserved cooking water and mix well. Add the cream, Padano, cooked chicken and cooked streaky bacon and stir to combine.

To serve, divide the pasta and sauce between two bowls. Top with extra Padano and freshly ground black pepper.
Recipe credits: BBC Food Recipes