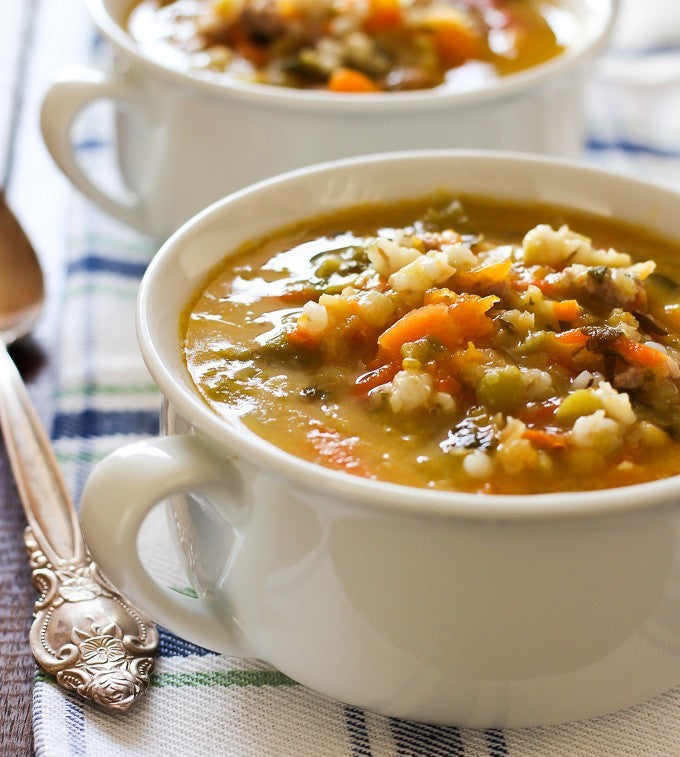 Ingredients
1 red onion finely chopped
1 tablespoon coriander seeds crushed
2 cloves of garlic peeled and finely chopped
Olive oil
1 butternut pumpkin, peeled, deseeded and roughly chopped
2 good handfuls of fresh sage
1 good handull of pearl barley
2 packets of chicken stock
1 pack of parma ham
Salt and pepper
Extra virgin olive oil


Method
In a large pot slowly fry the onion, coriander seeds and garlic in a little olive oil until softened.

Add the squash, sage and pearl barley. Stir in the stock.

Bring to the boil then simmer for 1 ½ hours.

Take half the soup and lquidize it to make it smooth.

Add it back to the pan and add the parma ham.

Season carefully with salt and pepper.

Add a little chilli and ground nutmeg if you like.

Serve with a glug of extra virgin olive oil and some hot crusty bread.