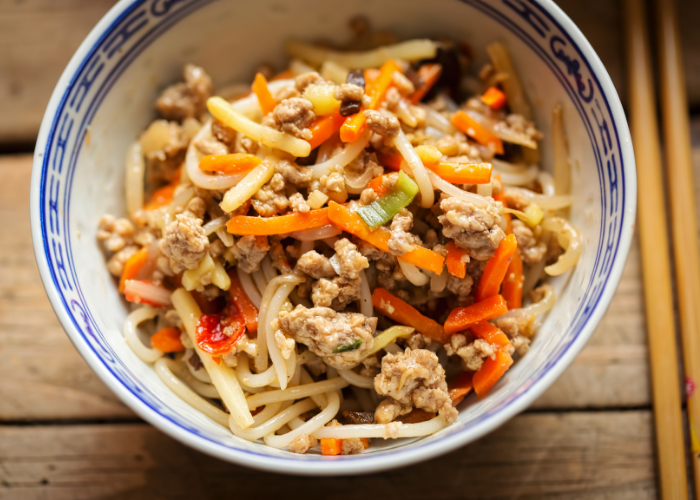 Whip up this filling pork noodle stir-fry for a quick and easy midweek meal. It takes just 30 minutes to make, so is great for busy evenings. For a vegetarian version, simply replace Pork Mince with our OmniMeat Plant Based - All Purpose Mince. 
Serves 4
INGREDIENTS
350g
Wicks Manor English Pork Mince
/ 
OmniMeat Plant Based - All Purpose Mince
350g
UPGRAIN® Thin Egg Noodles (Low Carb)
Thumb-sized piece
ginger
, peeled and chopped, or 1½ tbsp ginger purée
3
garlic
cloves, crushed, or 1 tbsp garlic purée
320g stir-fry
veg
 of your choice (like
sugar snap peas
, baby sweetcorn, beansprouts,
carrots
and peppers)
In Your Pantry
3 tbsp
sesame oil
4 tbsp tamari sauce
2 tsp cornflour
4 tbsp sweet chilli sauce
METHOD
Heat the oil in a wok. Add the mince, break it up with a spoon and fry over a high heat for about 8 mins until browning.
While the meat cooks, boil a kettle, then pour the hot water over the noodles. Set aside for 5-10 mins to soften.
Add the ginger, garlic and veg to the pan and stir-fry for 2-3 mins.
Mix 1 tbsp tamari sauce with the cornflour to make a paste. Add the remaining tamari sauce, the chilli sauce and 2 tbsp water.
Drain the noodles and add to the pan with the sauce. Cook until the sauce coats the noodles, adding a splash of water if needed, then serve.
Recipe Credit: BBC
$39.00
For one of each item
$39.00
For one of each item