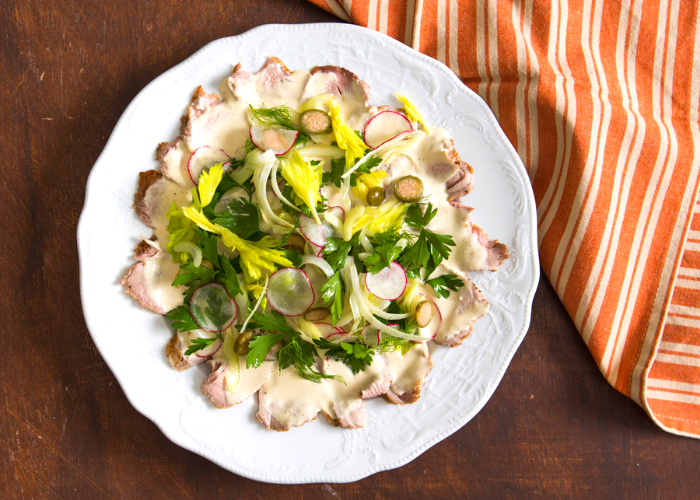 Serves 4 to 5
INGREDIENTS
700g Wicks Manor English Pork Tenderloin
½ onion, quartered
1 clove of garlic, halved
1 bay leaf
3 juniper berries
A few black peppercorns
215ml ILauri Tavo Pinot Grigio (or any white wine)
215ml Our Very Own Chicken Stock
Sauce:
95g Ortiz Bonito Spanish Tuna in Olive Oil, drained
3 heaped tbsp mayonnaise
1 tbsp reserved stock from the pork
2 anchovy fillets
½ tbsp capers
¼ tbsp lemon juice
To decorate:
Anchovies, cut into long thin slivers and capers
Optional: Caper berries, parsley or watercress and lemon wedges
METHOD
Put the pork into a tight-fitting ovenproof casserole with all the other ingredients.It should be almost covered with liquid so top up with water if necessary.
Bring up to a boil and skim off any scum. Cover and either simmer over very low heat or cook in the oven for 1 hour. Leave to cool completely in the liquid.
Process all the sauce ingredients until smooth and the consistency of double cream. Check the seasoning and add more ingredients to taste, if necessary. Thin with a little more stock, if too thick.
Remove the rind and fat from the pork, slice very thinly and arrange in barely overlapping concentric circles around a large oval or round platter. Coat with the sauce and decorate with a crisscross of anchovies and some capers scattered or arranged in the middle of each diamond.
Serve with New (Chat) Potatoes and a green salad.
Recipe credit: Jane Lovett
Image credit: Serious Eats