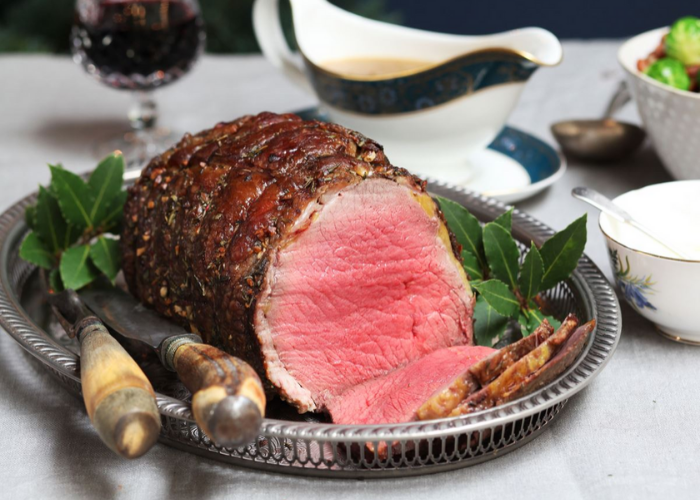 Serves 4
INGREDIENTS
800g Rhug Estate Organic Aberdeen Angus Beef Topside Mini Joint
1 1/2 tbsp Vasse Virgin Rich & Robust Cold Pressed Extra Virgin Olive Oil
4 tbsp Dijon mustard
2 tbsp chopped fresh flat-leaf parsley
3 Zucchini Yellow, cut into chunks
1 Eggplant, cut into 2cm pieces 
1 tbsp fresh thyme leaves
250g Red Grape Tomatoes
250g yellow grape tomatoes
2 tbsp vinegar
METHOD
Preheat oven to 200°C. Rub beef with 2 tsp oil and brown on all sides in a frying pan over high heat. Combine mustard and parsley and smear over beef.
Place on rack in roasting dish and roast for 45 minutes for rare, 1 hour for medium and 1 hour 10 minutes for well done. For ease and accuracy, use a meat thermometer.
Remove beef from oven. Loosely cover with foil and rest beef for 20 minutes.
Meanwhile, combine zucchini and eggplant and thyme leaves with remaining oil and place on baking tray lined with baking paper. Cook in oven along with beef for 1 hour, adding the tomatoes for last 20 minutes of cooking.
Remove from oven and gently toss together with the vinegar. Thinly slice beef and serve with roasted ratatouille.
Recipe credit: Lamb and Beef
Image Credit: Abel&Co