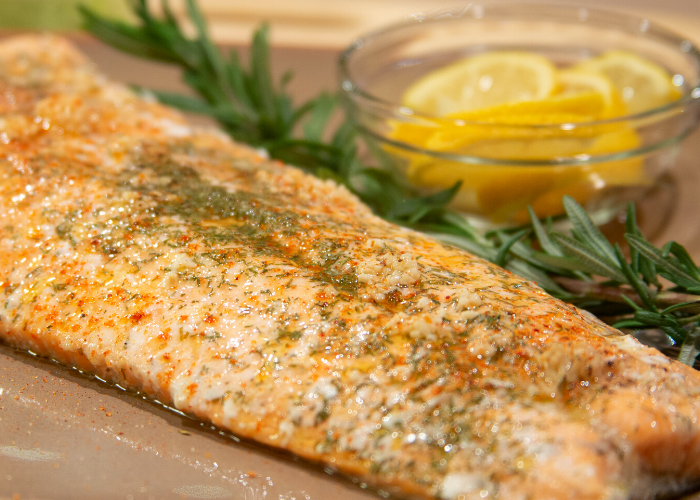 Here's a simple and beautifully flavoured centrepiece for your feast! 
Serves 4
INGREDIENTS
1kg whole side of salmon, skin-on
1 clove garlic
2 tbsp dill
1 lemon, cut into 6 wedges
From Your Pantry
METHOD
Heat oven to 180C.
Line your largest oven tray with a doubled piece of baking paper. Chop the garlic finely and stir it into the olive oil. Rub salmon all over with garlic oil, and place skin side down on paper.
Season salmon with a little salt, scatter with dill sprigs and add lemon wedges too. Bake for 20 minutes for medium rare, or 25 minutes for medium. Check fish with a small knife by testing whether flakes will gently pull apart in thickest section: medium rare flakes will still look partly translucent below the surface, but medium cooked fish will be opaque. Remove from oven and rest for 10 minutes (or allow to cool) before serving. Discard lemons.
The double layer of baking paper might help you transfer the salmon to a serving platter — just slide paper out from under fish once it's safely on the platter. When serving, cut down to just above skin, then turn knife and cut fish off skin. To break into large chunks, serve using two large tablespoons 
SALMON COOKING TIMES
Adjust cooking time by around +/–5 minutes per 300g to suit a different weight of the side of salmon.
Add 5 minutes to cooking time if cooking 2 sides of salmon in one tray.
For a whole salmon of about 3kg, cooking time will be about 35-45 minutes.
$92.00
For one of each item
$92.00
For one of each item