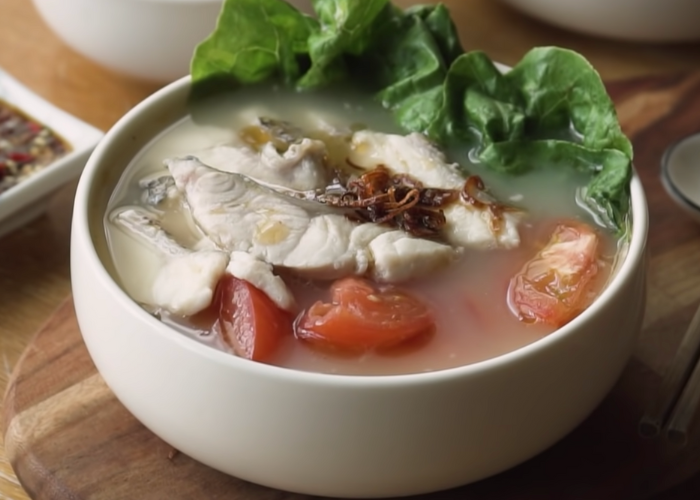 Ingredients
600g Asian Seabass fish slices
1 egg white
1½ tbsp fish sauce
1½ tbsp Shaoxing wine
¼ tsp sugar
¼ tsp white pepper
1 tbsp cornstarch
1 tsp Oilala Extra Vigin Olive Oil
Fish Stock:
2kg Fish bones
25g 
ginger
(smashed)
2
tomatoes
(cut into wedges)
100g
lettuce
6 stalks Scallions (white part only) (reserve the green part for garnishing)
2 pieces Dried sole fish (toasted)
60ml Shaoxing wine
Salt
& pepper to taste
Fried shallots (garnishing)
A dash of 
sesame oil
 (Optional) 
Method
Wash & drain dry fish slices. Season with egg white, fish sauce, shaoxing wine, sugar, white pepper, cornstarch & cooking oil. Let it marinate in the fridge while you prepare for the fish stock.
Wash & drain dry fish bones.
In a deep pot, deep fry fish bone, ginger until fragrant & fish bones are golden brown, drain and set aside.
In another stock pot, toss in ginger, scallions (white part only), fish bones and shaoxing wine.
Pour in 3.4 litres of water and dried sole fish. Let it boil until the stock turns milky. Drain and filter stock, set aside.
In a pot of water, give fish slices a very quick blanch. Drain & set aside.
In the pot of fish stock, transfer fish slices into the pot with tomatoes, Season with salt and pepper and more shaoxing if you prefer.
Gather lettuce at the bottom of the bowl, top up with fish slices and soup. Garnish with scallions, shallots & a dash of sesame oil.
Serve hot with rice or noodles of your choice.


Recipe & Photo Credit:
The Meat Man
$45.80
For one of each item
$45.80
For one of each item