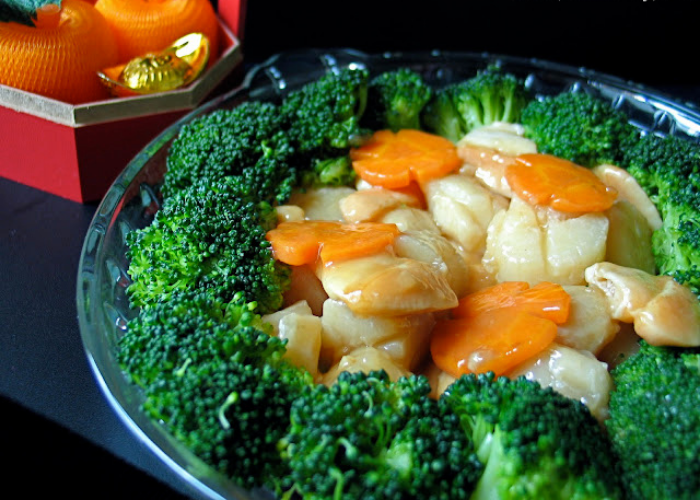 Serves 4
INGREDIENTS

1 can of pacific clams
15 pieces of scallops
1/3 stick of 
carrot
(thinly sliced or cut into flower shape)
1 bunch of
broccoli
(stem removed and cut)
5 cloves of
garlic
(minced)
3 slices of
ginger
2 stalks of 
spring onions
(ends only)
1 teaspoon of Shaoxing wine
1 cup of chicken broth
1 tablespoon of oyster sauce
1 tablespoon of tamari
1 teaspoon of sesame oil
Corn starch (100ml of water mixed with 1 level tablespoon of cornflour)
METHOD
Blanch broccoli and set aside.
Saute garlic (half of above indicated quantity), ginger and spring onion with a little bit of oil until fragrant
Sprinkle with Shaoxing wine and add in chicken broth.
Once the mixture starts to boil, add in scallops and allow to cook for about 2 minutes.
Drain and remove scallops,  Set aside for later use.
Using a clean pan, stir-fry the remaining minced garlic.
Add carrot to the pan and when it is half done, add in pacific clams.
Stir-fry mixture until thoroughly cooked.
Mix in oyster sauce, light soy sauce and sesame oil.
Return into the pan.
Turn the heat down and add in cornstarch. 
Let simmer until the sauce thickens.
Transfer to serving plate and garnish with broccoli.
Recipe and Image Credit: Recipe Warehouse