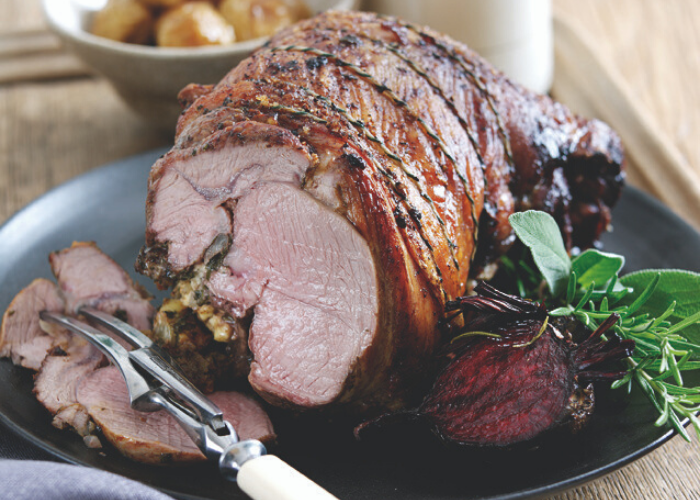 INGREDIENTS
1.7kg Rhug Estate Organic Welsh Lamb, Boned & Rolled
Vasse Virgin Mild & Delicate Extra Virgin Olive Oil
1 onion, roughly chopped
3 cloves garlic, crushed
1 sprig fresh rosemary, sage and tarragon, chopped
180g (~4 cubes) Meredith's Australian Marinated Goat Cheese, crumbled
1kg New (Chat) Potatoes
6 Red Baby Beetroots, scrubbed & cut in half 
2 sprigs fresh rosemary
METHOD
Preheat oven to 180

°C

Heat olive oil in a pan and add onion and garlic and cook for 2-3 minutes until softened, but not browned. Add chopped herbs and stir
Place leg of lamb on a board and open out to flatten.
Spoon into the centre of the cavity the onion mixture and goat cheese. Spread out but not quite to the edges. Roll joint up and tie with heatproof string.
Weigh the joint and work out the cooking time: Medium - 25 minutes per 450g/½kg, plus another 25 minutes; Well done - 30 minutes per 450g/½kg (1lb) plus another 30 minutes
Place in a roasting tin (any leftover stuffing place on the bottom of the pan under the joint), season and drizzle with oil. Roast, basting occasionally.
40-50 minutes before the end of cooking time add new potatoes, beetroot wedges and rosemary sprigs and toss in the juices.
Serve joint thickly sliced with roasted potatoes and beetroot.
Recipe and photo credits: Hybu Cig Cymru – Meat Promotion Wales