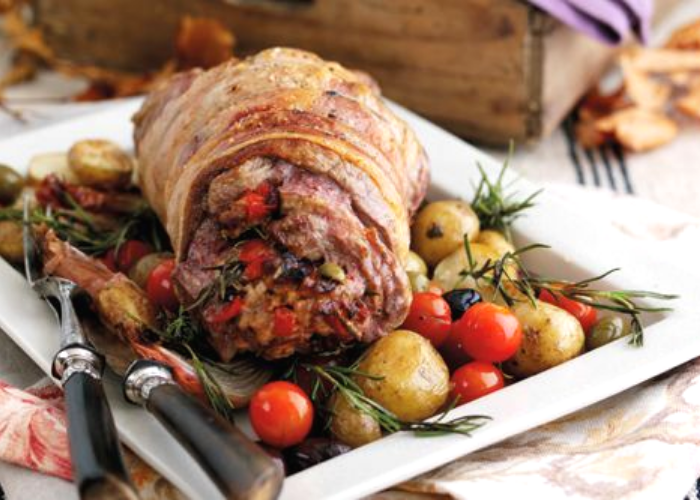 Serves 4
Time required: 90 minutes
INGREDIENTS
800g Rhug Estate Organic Welsh Lamb Shoulder Mini Joint
For the stuffing:
4 lamb and rosemary sausages, skins removed (approx 250g)
1 tomato, chopped
25g sundried tomatoes
6 black olives, pitted and roughly chopped
6 Vasse Virgin Green Olives, pitted and roughly chopped
3 garlic cloves, sliced
Serve with:
1 tbsp Vasse Virgin Rich & Robust Cold Pressed Extra Virgin Olive Oil
450g New (Chat) Potatoes
4 sprigs fresh rosemary
10 Red Grape Tomatoes
8 Vasse Virgin Green Olives (or a mix of black and green olives)
METHOD
Preheat oven to 180 degrees Celcius, gas mark 4.
Place all stuffing ingredients into a large bowl and mix well together.
Remove strings from the joint if it is strung open, open joint and lay flat on a board fat side downwards. Place the stuffing onto the Welsh Lamb. Fold and roll the Welsh Lamb and tie with heat resistant butchers string. 
Weigh the joint and calculate the *cooking time. Place the joint in a roasting pan and season. Baste the Welsh Lamb during cooking.
On a separate tray, place the olive oil, rosemary and new potatoes. Season and toss together to coat in oil, then spread out in a single layer. Roast for about 40 minutes until potatoes are tender. Add the grape tomatoes and olives. Cook for about 5 to 10 minutes until tomato skins start to split. 
Serve the lamb with roasted new potatoes, roasted tomatoes and olives.
*25 minutes per 450g, plus 25 minutes for every additional 500g.
Recipe and image credit: Welsh Beef & Lamb