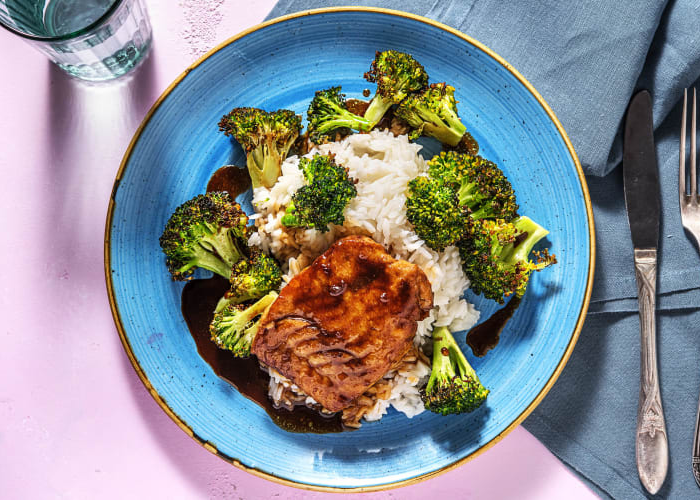 A brilliant recipe for when you're craving something fresh and light.
Serves 2 | Time Required: 30 Minutes
INGREDIENTS
1 tsp of White Wine Vinegar
½ tsp of Tamari
1 tsp of Ketjap Manis (Sweet Soy Sauce)
1 tsp of Rice Vinegar
2 pieces of English Hake Fillet, Skin-On
150 grams of Wholegrain Brown Rice
1 pack of Broccoli


From Your Pantry
1 tsp of Honey 
METHOD
Preheat your oven to 200°C. Pop the white wine vinegar, honey, soy sauce, ketjap manis and rice vinegar into a mixing bowl and stir together. Lay in the hake fillets and turn to coat in the marinade. Set aside.
Important: Remember to wash your hands and equipment after handling raw fish.
Pour the water (see ingredients for amount) into a large saucepan and bring to the boil. When boiling, stir in the jasmine rice, lower the heat to medium and pop a lid on the pan. Cook for 10 mins, then remove from the heat and set aside (still covered) for another 10 mins or until ready to serve.
Tip: The rice will finish cooking in its own steam.
Meanwhile, pop the broccoli florets on a lined baking tray and drizzle with oil. Season with salt and pepper, toss to coat then spread out. Set aside, we will roast them later.
Heat a drizzle of oil in a large frying pan on high heat. When hot, carefully remove the hake from the marinade (keep the marinade, we will use this later!) and lay in the pan. Lower the heat to medium and fry the fish until golden all over and cooked through, 3-4 mins each side.
Important: The fish is cooked when opaque in the centre. When cooked, transfer the hake to a plate.
When the fish is halfway through cooking, roast the broccoli on the top shelf of your oven until crispy , 10-12 mins. Allow the frying pan to cool a little then return to medium heat and pour the marinade you made in step 1 into the pan along with 2 tbsp of water per person. Stir and bubble until reduced and sticky, 5-6 mins.
Tip: If you reduce it too far, just add a splash more water to loosen it up!
Once the sauce is ready, return the fish to the pan and carefully spoon the sauce over the fish to coat. Fluff up the rice with a fork and serve in bowls topped with the hake teriyaki and sauce. Serve the roasted broccoli alongside. Enjoy!
Recipe and Image Credit: HelloFresh
Add all items to cart
$22.80
For one of each item
$22.80
For one of each item