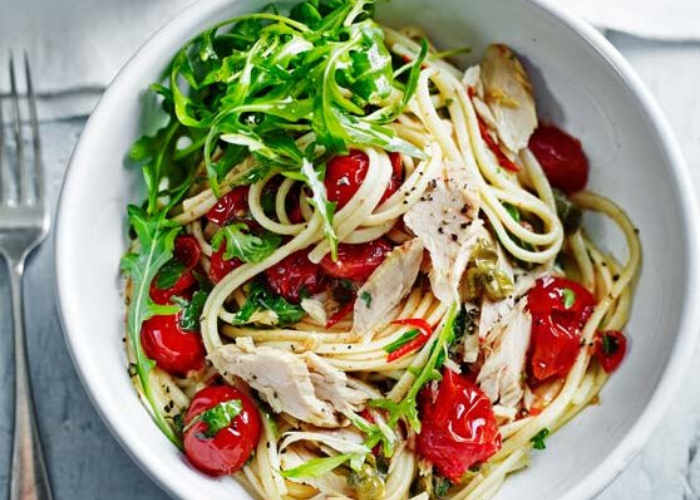 Serves 2
INGREDIENTS
2 packs ripe Red Grape Tomatoes
1 tbsp capers, drained and rinsed
2 tbsp Chestnut Grove Extra Virgin Olive Oil
3 garlic cloves, finely chopped
1 red chilli, finely sliced (deseeded, if you prefer less heat)
175g Liguori Spaghetti
Zest and juice of 1 lemon, plus wedges to serve
1 jar Ortiz Bonito Spanish Tuna in Olive Oil, drained
1 bag Fresh Wild Rocket, half chopped
METHOD
Put the kettle on for your pasta water. Halve the tomatoes and chop the capers; set aside. Heat the olive oil over a very low heat in a frying pan. Add the chopped garlic and sliced chilli to the pan. Leave them to gently cook for 3-4 minutes – you don't want the garlic or chilli to colour, but for the flavours to infuse the oil.
Meanwhile, add the pasta to a pan of boiling salt water and cook according to the pack instructions.
Add the tomatoes, capers, lemon zest and lemon juice to the frying pan. Increase the heat to medium and cook, stirring, for 8 minutes – or until the tomatoes begin to collapse. Then add the drained tuna and cook for a further 2 minutes to heat through. Remove from the heat and stir in the chopped rocket. Season.
Drain the pasta, then toss with the sauce. Divide between two bowls, top with the remaining rocket and serve with a lemon wedge or two on the side.