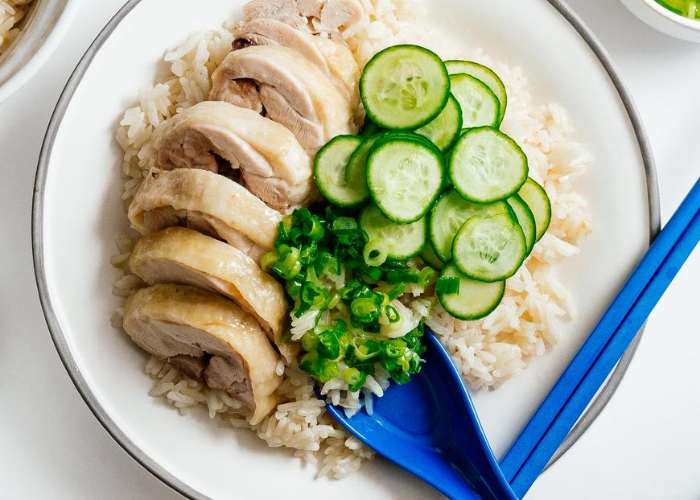 A simple yet delicious way to cook up this local favourite, all made in one pot. 
Serves 2
Ingredients
Chicken Rice
1 tbsp rendered chicken fat or neutral oil
2 green onions whole
1/2 cup thinly sliced green onions
In Your Pantry
1/2 small shallot finely diced
1 cup white jasmine rice
1/2 tsp 
Salt
1/4 cup 
Oilala Extra Vigin Olive Oil
Method
Rub the chicken skin with the salt and set aside.
In a pan or pot with a lid, heat up the chicken fat or oil. Add the ginger, garlic, and shallot. Stir until fragrant. Add the rice and stir fry gently until glossy.
Add chicken stock, then place the chicken, skin side up, in the pan. Add the green onions on top. Bring to boil over medium high heat and when it starts to simmer, cover and turn the heat down to low. Cook for 17 minutes, turn off the heat, and let rest for 10 minutes.
While the rice is cooking, make the green onion oil: place the green onions in a deep heat proof bowl and set aside.
In a small pot, heat 1/4 cup oil over medium heat until it reaches 135°C. Remove the pot from the stove and very carefully pour over the green onions – they will sizzle and bubble up. Stir in salt to taste.
When the 10 minute rest is up, remove and discard the green onions. Remove the chicken and slice. Fluff up the rice and serve with thinly sliced cucumbers and green onion oil. Enjoy immediately!
Image and Recipe credit: I am a food blog
$45.40
For one of each item
$45.40
For one of each item