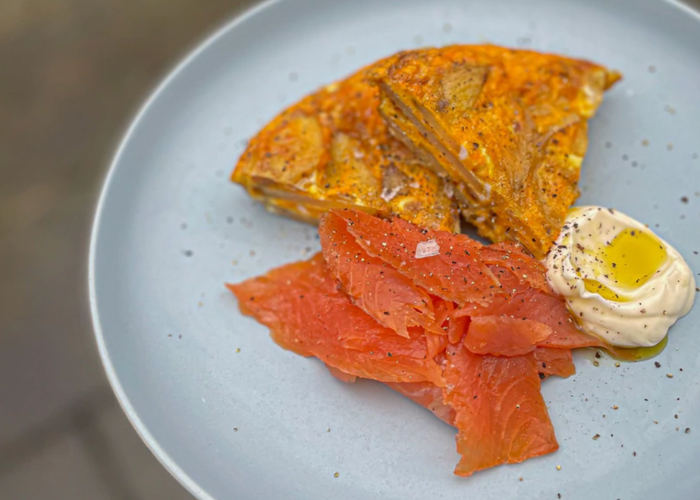 Ingredients
1/2 onion
2 Potatoes
Half a clove of garlic finely chopped (you can use a whole one)
5 eggs
Cold smoked Chalk Stream Trout
From Your Pantry
Oilala Extra Vigin Olive Oil
Mayonnaise
Method
Finely slice your potato & onion then fry in a pan with a healthy glug of olive oil & your garlic.
Lower the heat once your veg is beginning to brown and cook slowly until the potato is cooked through but still holding its shape.
Once your onions have softened/sweetened then space around your pan equally (you can use a smaller pan to get some height for aesthetic purposes).
In a bowl crack open your eggs and give them a good whisk so that there aren't any white streaks running through your tortilla once cooked.
Season well then pour into your pan.
Shake the pan a bit to make sure your egg mixture gets into all the nooks & crannies. Then transfer into an oven at 200c. Let it cook for about 10/15 minutes - or just cook until golden brown as all the egg has cooked.
Enjoy with your cold smoked Chalk Stream trout & a large blob of Mayo.
To really spice it up you could run some chopped dill through the tortilla.
Recipe credit:
 Chalk Stream Trout
$29.40
For one of each item
$29.40
For one of each item