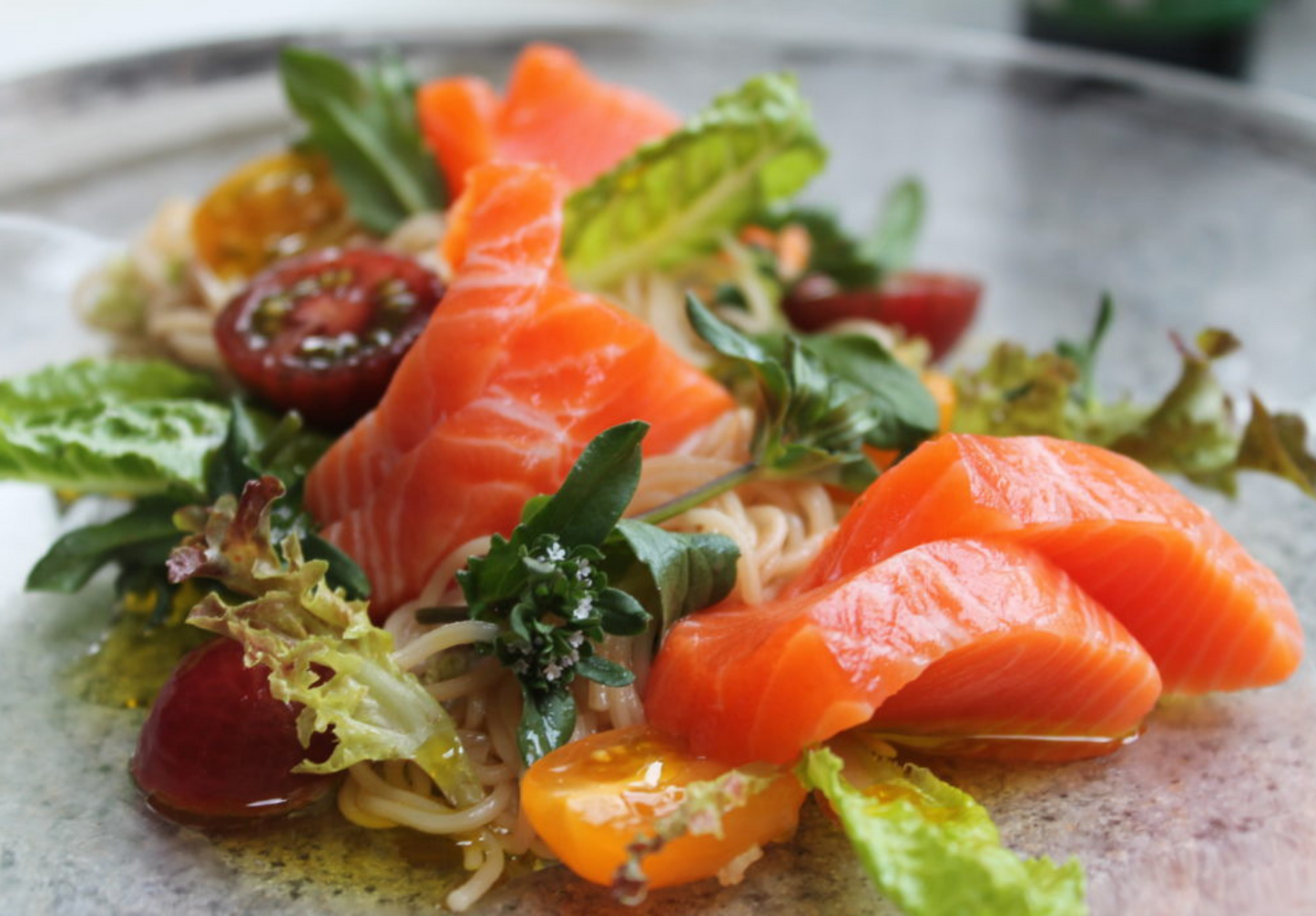 I sell the best salmon in the world. Pure and simple.  
Salmon is a delicious and easy-to-cook fish with an impressive nutritional profile. On everyone's list of nutrient-dense superfoods, salmon is packed with high-quality protein, beneficial omega-3 fatty acids, and essential minerals and vitamins including B6, B12, D, iron, phosphorus and selenium.
On how to choose fresh salmon, there are 3 things you need to take note of:
1. Clean Water Used in Farming Salmon
To ensure that salmon is fresh and healthy, the key lies in clean water. I source our salmon from Mt Cook Alpine Salmon. They farm their salmon with the highest standards in pristine, highly oxygenated Alpine waters, naturally devoid of sea lice (because, unlike all other salmon farms, Mt Cook Alpine's farm is not in sea water, it is in fresh glacial water). The glacial and snow-fed water both above and below the farm is so pure that you can drink it directly. This gives our salmon an amazingly clean and minerally taste. 
2. Feed for the Salmon 
It is important to note what goes into the salmon that you are eating. Our Mt Cook Alpine Salmon is fed with non-GMO premium feed, and the small amount that does come from fish is made mostly from fish byproduct, rather than fish harvested for fishmeal. This means that our fresh salmon is fed in a sustainable, traceable and healthy manner.
3. Fresh or Frozen
Freezing is nature's way of preserving food. Salmon, when frozen at the optimum period, will lock in the freshness of the fish. Our salmon freezes really well and there is no reduction in quality. However, if you prefer salmon that has not been frozen before, we have the best fresh salmon in Singapore and it is sashimi-grade. Our fresh salmon are air-flown from New Zealand weekly and I aim to have it arrive at your door faster than in those living in some parts of New Zealand.
Multiple visits to Mount Cook Alpine Salmon Farm in the Southern Alps of New Zealand have showed me how minimal stock densities and a passion for the environment can produce the world's finest Freshwater King Salmon. The exceptional taste of our salmon is unparalleled, and I have no hesitation in saying this is the best salmon in Singapore. In face, the best in the world.
Remember, you can order before 3pm and receive it by 4pm the same day!