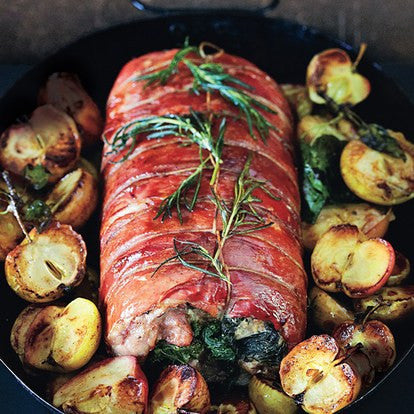 We first fell for the picture. But then came the ingredients: an inspired combo of pork loin, prosciutto, porcini mushrooms, apples, kale ... what a sublime assembly. 
Bon Appétit magazine has outdone itself with this recipe for Prosciutto-wrapped Pork Loin with Roasted Apples, which is on my menu this Sunday, using our beautiful Wicks Manor English Pork Loin, which I'm personally picking up at the farm today! SO excited to be so close to this incredibly fresh, clean food.  
If you're tempted to try this recipe, we've got the pork loin, the Italian prosciutto and the Sustenir kale - all the very best quality ingredients, which goes such long way in doing justice to a dish like this.