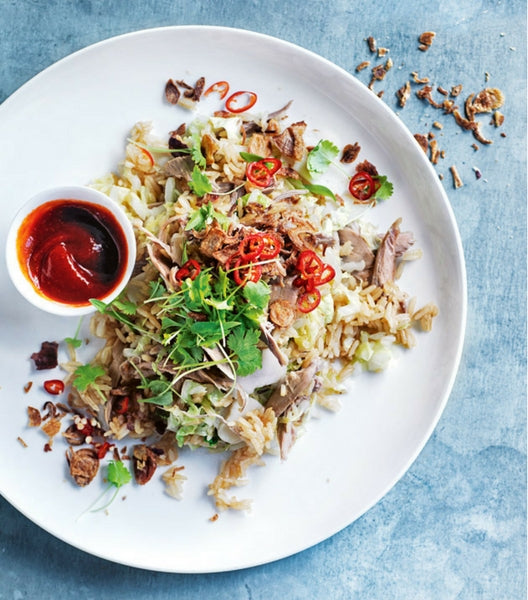 An adaptation of Donna Hay's Barbecued Duck Fried Rice, our ready-cooked Silver Hill duck is perfect for this delicious recipe.
Serves 2–4
INGREDIENTS
200g shredded chinese cabbage
1 half Silver Hill Duck, meat shredded
¼ cup fried eschalots (french shallots), plus extra to serve
2 red Birdseye chillies, thinly sliced
4 cups cooked Wholegrain Brown Rice, cooled
227g can water chestnuts, drained and sliced
¼ cup (90g) hoisin sauce
coriander leaves, to serve 
From Your Pantry
2 tablespoons Extra Virgin Olive Oil
METHOD
Heat the oil in a wok or large frying pan over high heat. Add the cabbage, duck, eschalots and half the chilli and cook for 2 minutes, stirring occasionally. 
Add the rice and water chestnuts and cook, stirring occasionally, for 4 minutes. Add the hoisin and cook for 1 minute. 
Divide between bowls and top with the remaining chilli, coriander and extra eschalots.
$33.90
For one of each item
$33.90
For one of each item