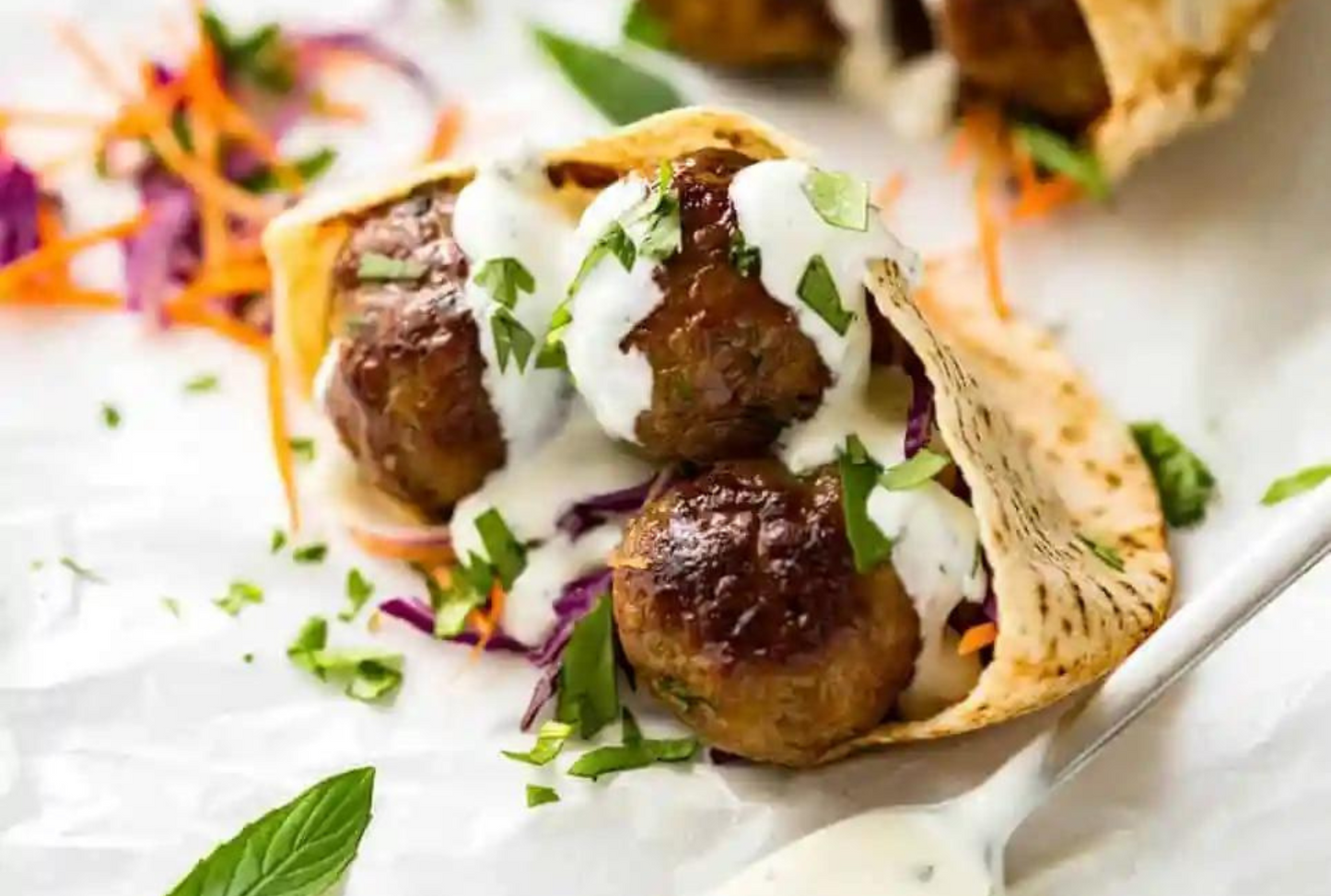 Caramelised on the outside, juicy on the inside, these beautifully spiced lamb meatballs are loaded with Middle Eastern flavours - serve it with a minted yoghurt sauce, stuffed into a pita or on its own. 
Serves 4 | Time Required: 25 mins
INGREDIENTS
FOR THE MEATBALLS
1 lb / 500 g organic lamb mince* (works with beef, chicken or turkey, see notes below)
1/2 cup breadcrumbs
1/4 cup coriander/cilantro leaves and stems, finely chopped
From Your Pantry
1 small yellow onion, grated (~1/2 cup, including juices)
1 egg
2 cloves garlic, crushed
1 tsp EACH cumin, coriander, paprika (any)
1/2 tsp EACH cinnamon, cayenne pepper (add more for spicy)
1/2 tsp salt
Black pepper
1 tbsp olive oil
FOR THE MINTED YOGHURT SAUCE
1 cup Greek yoghurt or any plain yoghurt 
From Your Pantry
1 clove garlic, crushed
2 tbsp fresh mint, finely chopped (or 1 tbsp dried mint)
Squeeze of lemon juice
Salt and pepper, to taste
FOR SERVING
4 pieces of pita bread
From Your Pantry
Shredded Red Cabbage, Carrot and Mint Salad OR lettuce leaves / tomato slices / finely sliced red onion
More mint and coriander/cilantro (optional for garnish)
METHOD
Mix Minted Yoghurt Sauce ingredients in a bowl. Set aside for 20 + minutes.
Place Meatball ingredients except oil in a bowl. Mix well.
Measure out 1 heaped tablespoon, then roll into balls. Repeat with remaining mixture - should have 22 - 24 meatballs.
Heat oil in a skillet over medium heat. Add half the meatballs and cook, turning to brown all over, for 8 minutes, or until cooked through. Transfer to plate, then cook the remaining meatballs.
OVEN OPTION instead of stove: Preheat at 200C/390F. Spray with oil then bake for 20 minutes until browned. Sometimes I put them on a rack to keep them round (put the rack on a tray).
Cut pita pockets in half, warm for 10 seconds in the microwave, then pry it open. Stuff with Salad, then meatballs. Finish with Yoghurt Sauce and more fresh mint and coriander if desired.
* This recipe is also terrific with beef, and very good with chicken and turkey. No recipe adjustments. If baking the chicken or turkey meatballs, spray very well with oil!
Recipe and Image Credit: RecipeTinEats
$8.90
For one of each item
$8.90
For one of each item