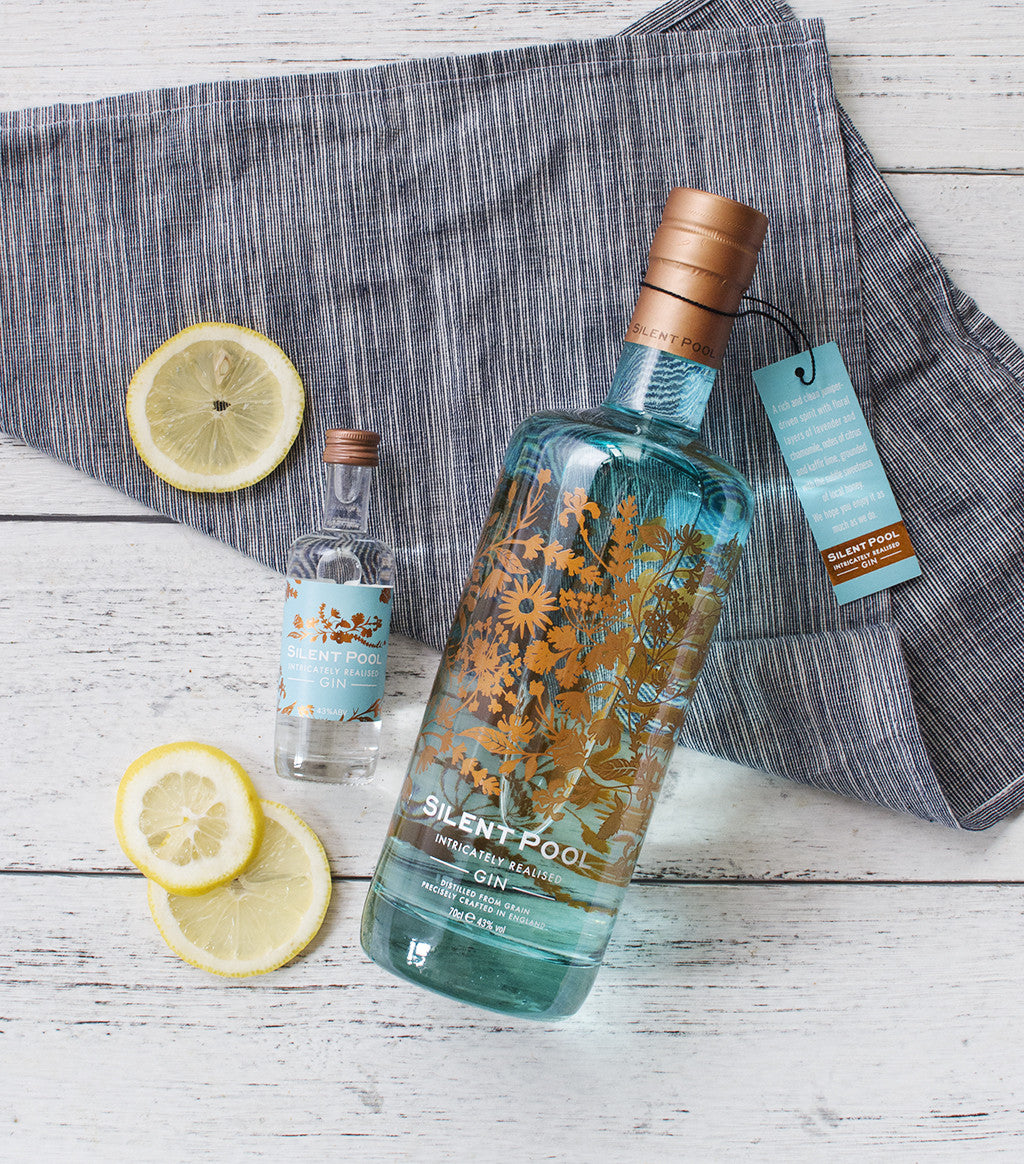 I'd been looking out for some really special additions to grow Our Cellar with the launch of Sasha's Fine Foods, and I had the pleasure of finding Silent Pool Gin when I attended a gin tasting recently (I kid you not, they exist!). 
Silent Pool Gin is one of the most interesting new generation spirits to emerge onto the spirits market recently, which is undergoing a huge renaissance at the moment. The Guardian recently interviewed Silent Pool's Ian McCulloch, who shares his experience on what he calls "the gin journey", a trip on which many independent distillers are sharing as consumers increasingly seek out niche and hand-crafted products, not just in spirits but right across the food and beverage world.
Silent Pool Gin is as authentic as it gets. It's crafted in England with no less than 24 botanicals carefully chosen for their uniqueness that work in unison to afford a really interesting, complex flavour. Fresh floral and clarifying citrus notes are grounded by earthy and spicy cassia bark and cubeb, and a smooth finish is achieved with the help of local Surrey honey. Refreshingly individual, intricately realised gin in 43% ABV.
What I love about Silent Pool is the story behind the brand and how it was established. It's a "boutique" gin created by a group of eccentric friends drawn by a common passion for craft distilling. These are not your usual folk – they're a colourful crew doing something really special in an extraordinary location on the Duke of Northumberland's Albury Estate in Surrey, England. They've taken a collection of dilapidated farm buildings on the banks of the legendary Silent Pool and transformed them into something unique that's preserved the simplicity and beauty of traditional machinery (going back hundreds of years) and drawn on the very old-fashioned skill of blending and crafting by hand to create something truly unique.
In keeping with the original vision for a sustainable business, a vintage wood-fired steam boiler was restored to power; the hand-built copper still was created for Silent Pool Distillers by the Arnold Holstein Company in the Lake Constance area of Germany.
The distillery was completed with the arrival of the bespoke stainless steel tanking, sourced from the Vipara Valley in Slovenia; tanking designed to hold both the spirit and the crystal-clear water pumped directly from the Silent Pool itself.
This is the coolest, most low-tech, hand-made gin you'll find on the market today, created by a pretty funky bunch of people who love what they do. I really value their attitude and approach, and really hope you'll enjoy this product.
Silent Pool will make for a super-special birthday gift, or if you're looking to revive the art of Friday night, I don't think you need to look much further. 
Pair this with our lovely Double Dutch mixers and tonics, and you've got the makings for something really fun and extra-special.   
Check out the Silent Pool folk and their story here