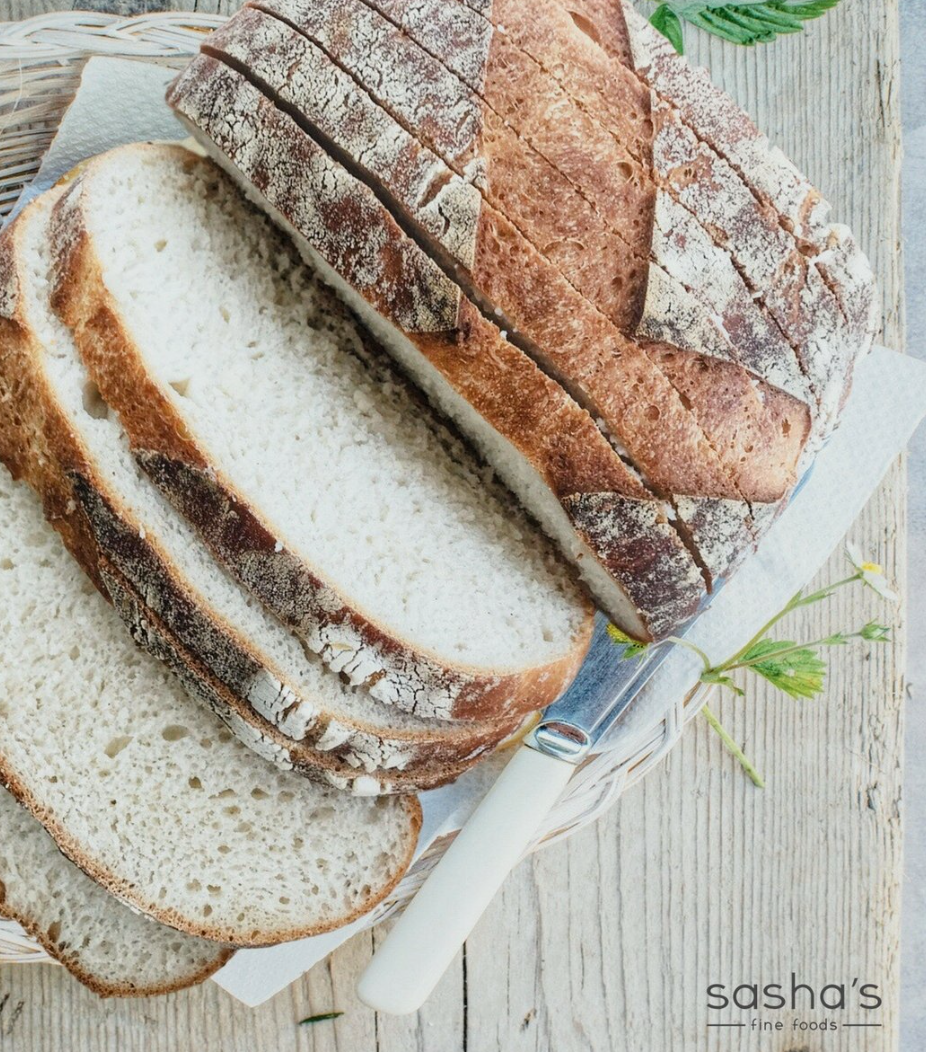 We recently announced news that we have added three of Simply Bread's bestselling products to our range, a snippet that was greeted with delight by many of you who know and love their superb breads. The Sourdough Granary is a massive hit with our customers, followed closely by their classic Rustic White Bread and Brown Sandwich Bread. You can add this to your basket any day and we'll deliver your favourite loaf along with your shopping, which saves hustling to the bakery counter before they sell out (not uncommon, but testament to the quality and popularity of their range).  
What makes this news even better is the knowledge that eating sourdough bread comes with some added benefits for your gut health. We found this article in Simmer and Zest (a brilliant little blog for those inquisitive about food). It is really fascinating, especially as we are converts to fermented foods and gut health, as I recounted in my recent personal blog. 
Sourdough has a very long and rich tradition going back 6,000 years, when humans first began to eat fermented and leavened bread, as reported in this interesting feature in The Guardian. The magic is in the natural yeasts and the time allowed for fermentation to occur, all of which combine to create a bread that's gentle to digest and positive for gut health.  
Sourdough bread is gentle for diabetics and potentially to those with mild gluten intolerances
The Guardian comments that, "In the long slow fermentation that produces sourdough bread, important nutrients such as iron, zinc and magnesium, antioxidants, folic acid and other B vitamins become easier for our bodies to absorb. Diabetics should note that sourdough produces lower sugar in blood sugar than any other bread. In a 2008 study published in Acta Diabetologica, subjects with impaired glucose tolerance were fed either sourdough or ordinary bread. The sourdough bread produced a significantly lower glucose and insulin response. In the sourdough process, moreover, gluten is broken down and rendered virtually harmless".
The article goes on to discuss the impact of sourdough on those either sensitive to gluten or suffering from coeliac disease: "In one small Italian study, published in the journal Clinical Gastroenterology and Hepatology, in January 2011, coeliac patients fed sourdough bread for 60 days had no clinical complaints, and their biopsies showed no changes in the intestinal lining." 
Our three breads from Simply Bread follow traditional, slow processes and, in the case of the sourdough, it's potentially a winner for gluten-free foodies.  
Check out the full selection here.