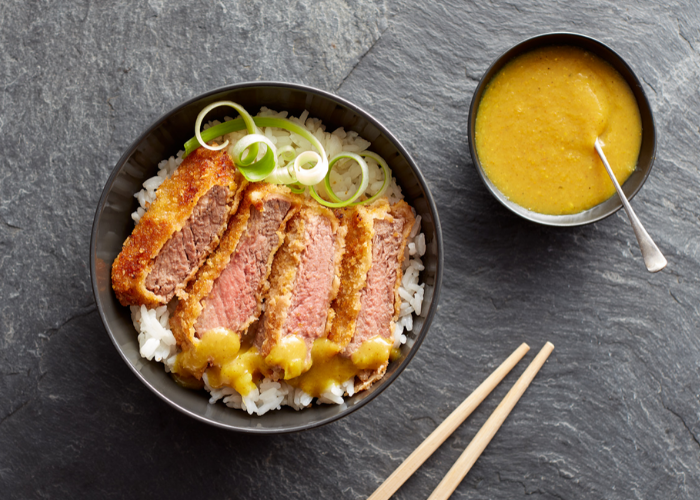 Serves 4
INGREDIENTS
2 Beef Sirloin Steak
75g seasoned plain flour
1 large egg - beaten
75g panko breadcrumbs
25g golden breadcrumbs
Vasse Virgin Rich & Robust Cold Pressed Extra Virgin Olive Oil for shallow frying
For the sauce:
1 tsp Vasse Virgin Rich & Robust Cold Pressed Extra Virgin Olive Oil
1 onion finely chopped
2.5cm piece fresh root ginger, grated
2 garlic cloves, crushed
1 tbsp medium curry powder
2 tbsp plain flour
250ml Our Very Own Chicken Stock
1 tbsp soy sauce
1 tbsp Vasse Virgin Margaret River Pure Honey
METHOD
Take the steaks out of the fridge 20 minutes prior to cooking.
Make the sauce by heating the oil in a pan and fry the onion for a few minutes until it softens and starts to colour.
Add the garlic and ginger. Cook for a few minutes.
Add the curry powder and flour. Stir for a minute and slowly add the stock while stirring continuously to avoid any lumps.
Add the honey and soy sauce. Boil and simmer for 10 minutes. You may need to add water if it is too thick. 
Place in blender for a smooth sauce.
Put the flour, egg and breadcrumbs in 3 different bowls.
Dip the beef steaks in the flour, then the egg and then in the breadcrumbs ensuring they are all coated.
To cook, gently heat the oil in a frying pan and cook the beef steaks over low-medium heat for 5 to 5 minutes on each side until cooked. Rest for 5 minutes before slicing.
Serve with sticky rice, Katsu curry sauce and a nice crisp salad.
Recipe and image credit: Welsh Beef & Lamb