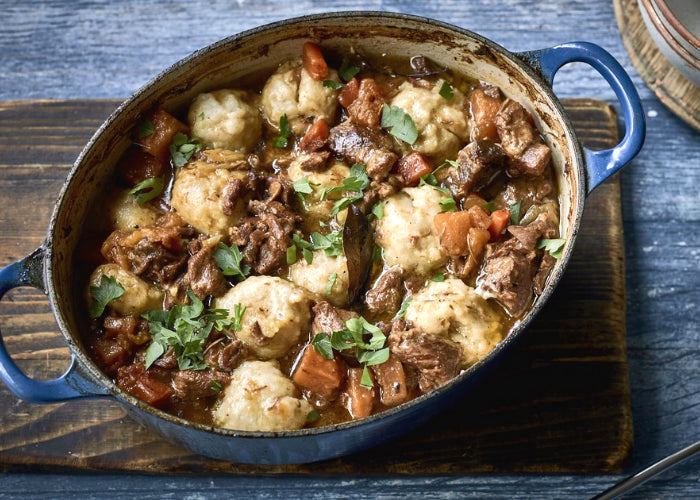 Serves 4
INGREDIENTS
For the stew:
750g New Zealand Premium Diced Lamb
25g plain flour
1 tbsp Vasse Virgin Rich & Robust Cold Pressed Extra Virgin Olive Oil
50g butter
12 baby onions, peeled
2 Carrots, cut into large dice
1 medium New (Chat) Potato, cut into large dice
50ml ILauri Tavo Pinot Grigio (optional)
2 sprigs rosemary
4 bay leaves
1.25 litres lamb stock
3 tbsp flat leaf parsley, roughly chopped
Salt and freshly ground black pepper
For the dumplings:
225g self-raising flour
115g suet or butter
Handful of chopped fresh rosemary, thyme or flat leaf parsley
30g grated Black Cow Deluxe English Cheddar Cheese
1/2 tsp salt
METHOD
Preheat the oven to 190C/Gas 5.
Season the lamb and dust with the flour. Place a heavy based pan over a medium heat, add the olive oil and butter then the lamb. Fry until golden-brown. Remove the lamb and keep to one side.
For the dumplings, mix the flour, suet, chedder and salt in a bowl. Add the rosemary then gradually stir in 140ml of cold water, or enough to form a sticky dough. Flour your hands and then roll the dough into 8 golf-ball sized dumplings. Place on a plate in the fridge to chill.
Fry the onions, carrots and swede until caramelised. Add the wine and simmer until the volume of liquid has reduced by half, then add the lamb back in with the lamb stock. Bring the stew to a simmer then add the bay leaf and rosemary. 
Lay the dumplings on top of the stew (or dunk them if you prefer - this will make them glossy and dark when cooked) and put the pan into the oven for 40 minutes at 190C/Gas 5, covering the pan for the first 25 minutes. Alternatively, put a tight-fitting lid on the casserole dish and steam for 1 hour.
Add the dumplings and parsley and serve equally between four bowls.
Image and recipe adapted from BBC Food