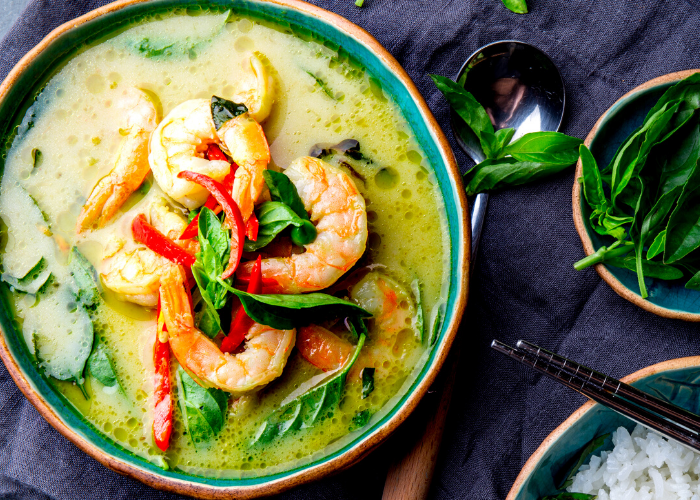 Serves 4
INGREDIENTS
3 tbsp Vasse Virgin Rich & Robust Cold Pressed Extra Virgin Olive Oil
75g green curry paste
175ml water
2 tbsp Thai fish sauce
2 tsp palm sugar
Juice of 1 lime
100g New (Chat) Potatoes, cut in half if large
12g Vietnamese Tiger Prawns, Tail Off, heads removed
50g canned bamboo shoots
2 tbsp fresh basil, shredded finely
1 red or green chilli, sliced across into rings


METHOD
Heat the oil in a large pan, add the green curry paste and fry for 5-6 minutes, until the ingredients begin to separate from the oil and it starts to smell aromatic.
Add the coconut milk, water, fish sauce, sugar, lime leaves or zest, lime juice, potatoes and the aubergines, if using. Simmer for about 10 minutes, until the potatoes and aubergines are tender.
Meanwhile, shell the prawns and de-vein them. Cut each one in half lengthways.
Add the prawns to the pan with the monkfish, bamboo shoots and the mangetout, if using. Simmer for another 2 minutes. Stir in the shredded basil and serve sprinkled with the sliced chilli.
Recipe credit: Lifestyle Food