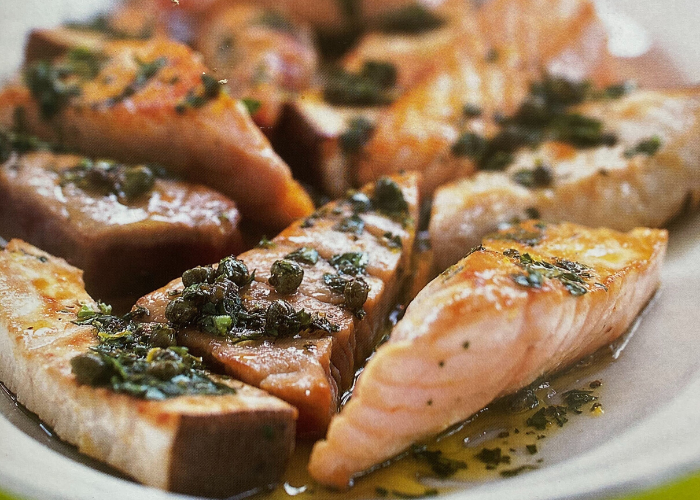 Serves 2
INGREDIENTS
Mt. Cook Alpine New Zealand Salmon Portions Skin-on
3 tbsp Vasse Virgin Rich & Robust Cold Pressed Extra Virgin Olive Oil

For the three-herb salsa:
125ml Vasse Virgin Mild & Delicate Cold Pressed Extra Virgin Olive Oil
Zest of 1 lemon, juice of half
3 tbsp fresh parsley, chopped
2 tbsp capers preserved in vinegar, drained but not rinsed
1/2 tsp dried oregano
1/2 tsp dried mint
Salt and pepper to taste 
METHOD
Make your herb salsa by combining everything in a bowl, whisking it together rather like a salad dressing. Leave it to macerate for at least 15 minutes for the flavours to develop.
Cut each salmon fillet into 3 pieces so that you have longish strips and fry them in the olive oil. 
Arrange the fillets on a large flat plate and drizzle the herb sauce over the top. Serve the remaining sauce in a bowl alongside.