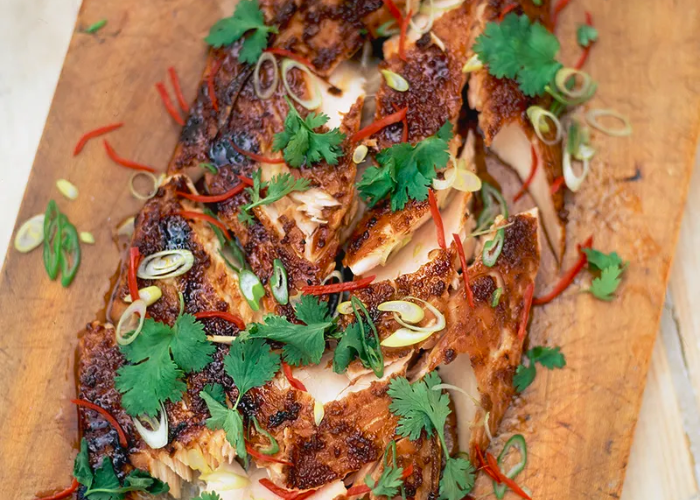 Ingredients
2 sticks of fresh lemongrass
1 bunch of fresh coriander 
5cm piece of fresh ginger
4 cloves of garlic
½ x small bottle of low-salt dark soy sauce
1 large salmon fillet 
4 tablespoons runny honey
2 red chillies
4 spring onions
2 limes
Method
Bash up your lemongrass. Pick the coriander leaves and finely slice the stalks. Peel and finely grate the ginger and garlic.
Mix the lemongrass, coriander stalks, ginger and garlic with the soy sauce, then rub all over the salmon fillet. Leave it to marinate for an hour or so, either in a plastic bag or on a tray covered with clingfilm.
Preheat your grill to its highest setting. When you're ready to cook the salmon, remove it from the marinade, brush with the honey and grill for 10 minutes.
Deseed the chillies and finely slice with the spring onions.
Fork up the cooked salmon a little so everyone can see the lovely, dark, sticky outside and the juicy, pink fish underneath.
Sprinkle the chillies and spring onions over the salmon with the reserved coriander leaves. Squeeze over the lime.
Recipe & Image Credit: Jamie Oliver