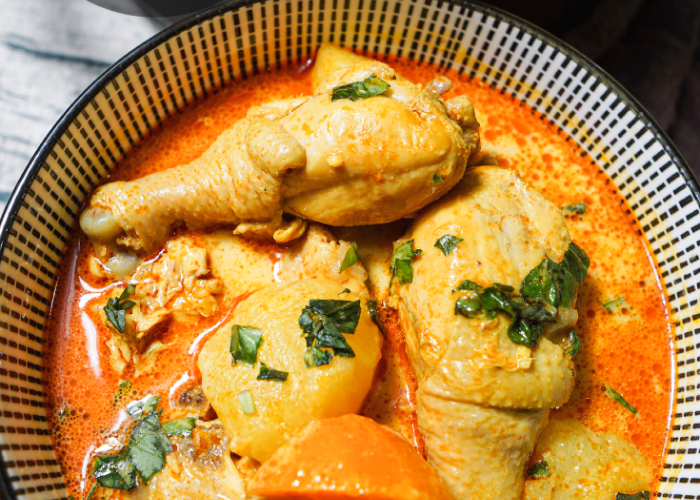 Ingredients
1pack Chicken Thigh Bone-in/ Skin On
1 Red Onion, chopped
1 tbsp or 1 inch Ginger, grated
1-2 cloves of Garlic, minced
200g Potato
100g Carrot
1 Chicken Broth
200ml Coconut Cream
Cilantro, for garnish (optional)
From your Pantry:
600 ml of Water
1 tsp Salt
1 tsp Olive oil
3 tbsps Curry Powder
Method
Heat oil in a large pan over a low to medium heat. Once hot, add onions, ginger and garlic. Sautee until fragrant.
Add the curry powder. Stir well to combine curry powder with the onions. Continuously stir for about 5 minutes and keep a low heat to not burn the curry powder. 
Add the chicken thighs and stir with the curry paste to evenly coat the chicken. Add the water, turn up the heat up and bring to the boil.
Then add the potatoes, carrots and chicken broth. Stir well, turn the heat down and cover the pot. Simmer for 30 minutes or until chicken is soft and tender.
Add the coconut cream and salt and stir through. Keep the heat low to avoid curdling of the cream.
Once boiling, turn off the heat and serve with rice.
Adapted From: nomadette.com
$60.20
For one of each item
$60.20
For one of each item