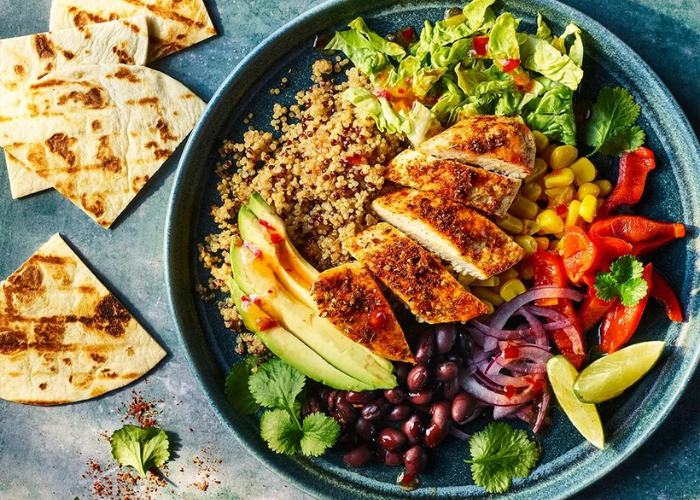 INGREDIENTS
4
chicken breasts
(cubed)
1
red onion
(diced)
2
garlic cloves
(crushed)
200g Quinoa, cooked
1
avocado
, sliced
100g black beans, drained and rinsed
75g roasted peppers, sliced
1
red onion
, sliced
1 head lettuce, shredded
Fresh coriander leaves
4 lime wedges
From Your Pantry
1 pinch salt
1 pinch pepper
1 tsp. paprika
A drizzle olive oil
100g tinned sweetcorn, drained
4 tsp sweet chilli sauce
2 small wraps
INSTRUCTIONS
Heat the olive oil in a large non-stick pan and then add the onion. Fry for a few minutes to soften and then add the crushed garlic.
Add the cubed chicken to the pan, season with salt, pepper, and paprika, then stir well. Cook for 5-10 minutes until the chicken is completely cooked through and turned from pink to white.
To serve, divide the quinoa between 4 serving bowls. Add the avocado, black beans, roasted peppers, sweetcorn, red onion and lettuce evenly between each bowl. Put cooked chicken breast on top.
Garnish with fresh coriander, lime wedges and drizzle with sweet chilli sauce.
Pre-heat a griddle pan over a high heat. Griddle the wraps for approximately 2 minutes each side or until charred. Slice each wrap into 8 wedges.
Recipe Adapted From: Quorn
$45.50
For one of each item
$45.50
For one of each item