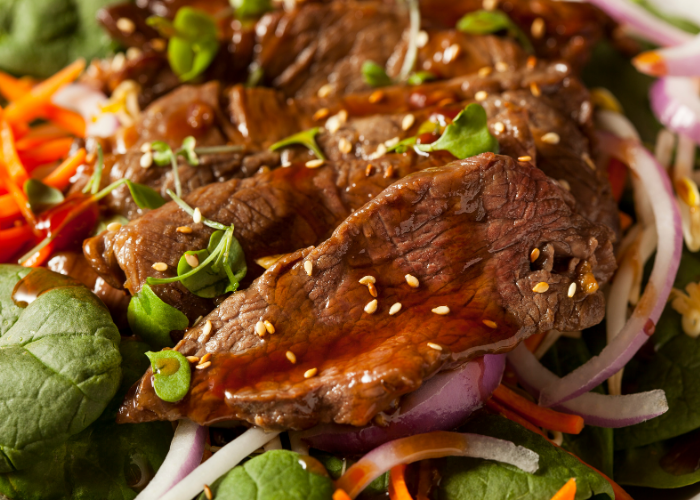 sashOne of the easiest and most delivious get-ahead starters. You can even up the quantities and turn it into an elegant lunch. 
Serves 8
INGREDIENTS
2 x New Zealand Premium Angus Beef Tenderloin Steak
Vegetable oil
4 spring onions
2 red chillies
Mixed Leaf Salad
Sesame seeds; toasted
Sprigs of fresh coriander (optional)

For the dressing
1 tsp finely chppped ginger
1 clove of garlic, finely chopped
1 small shallot, finely chopped
4 tbsp sesame oil
6 tbsp vegetable oil 
4 tbsp tamari sauce
2 tbsp lemon juice
METHOD
Trim the beef of any membrane, rub with oil and seal quickly on all sodes in a very hot frying pan. Set aside and allow to cool. 
In a small bowl, whisk together all the dressing ingredients. Set aside. 
Trim the spring onions and slice very finely into ribbons lengthways. Halve, seed and remove the membrane from the chillies and slice them very thinly lengthways. 
Slice the beef very thinly across the grain.
Just before serving, arrange the beef slices and a small handful of salad leaves on a plate, whisk the dressing and spoon about 2 tablespoons over the beef and salad.
Mix the spring onions and chilli together and scatter over the top of the leaves followed by a dusting of toasted sesame seeds and a sprig of coriander, if using. 
Recipe Credit: Get Ahead by Jane Lovett