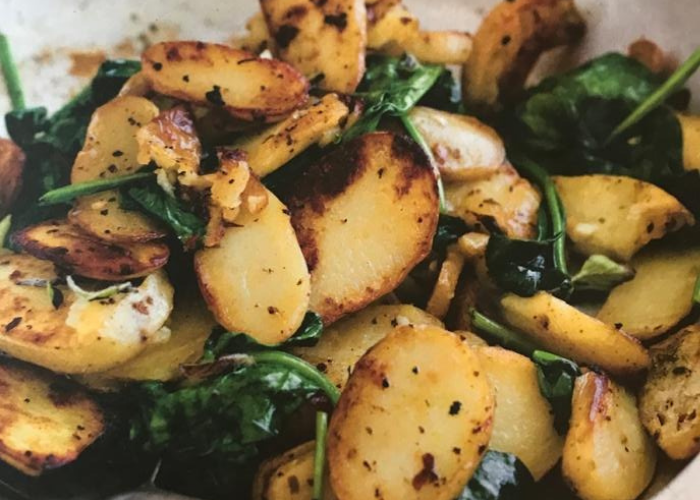 Lemony, sticky, golden and a little bit crispy, this delicious side dish goes well with just about anything.   
Serves 4-6
INGREDIENTS
1 kg New (Chat) Potatoes
Vasse Virgin Rich & Robust Cold Pressed Extra Virgin Olive Oil
A knob of butter
2 cloves of garlic, peeled and finely chopped
Few sprigs of fresh oregano, or a pinch of dried oregano
The juice and zest of one unwaxed lemon
1 tsp fine sea salt
Freshly ground black pepper
A few handfuls of fresh spinach leaves (optional)
METHOD
Slice the potatoes lengthwise into 1/8 inch thick slices.
Heat a little olive oil in a saute pan along with a generous knob of butter. (Make sure the pan has a tight fitting lid.)
Add the potatoes, garlic, oregano, lemon zest and juice, and some salt and pepper. Toss together gently to combine. Cover with the lid and cook as slowly as possible over low heat for about an hour, turning them over from time to time. The potatoes should be soft, golden and almost jam-like and sticky. They may even fall apart slightly.
If you prefer them to be a bit more golden and crispy, cook them over high heat for a few minutes with the lid off.
Check for seasoning and if using the spinach, add it to the pan, a handful at a time, just prior to serving, allowing it to wilt in between each addition.
Recipe Credit: The Get-Ahead Cook by Jane Lovett