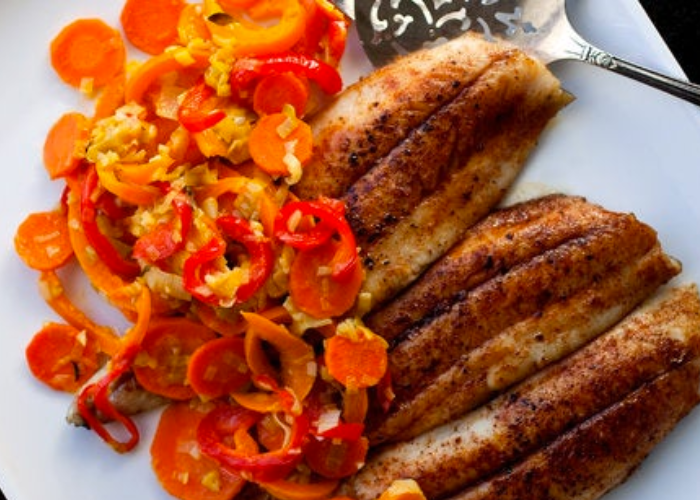 Serves 4
Ingredients
1¼ pounds mackerel fillets
2 leeks, white and light green parts only, thinly sliced
2 carrots, peeled and thinly sliced into rounds
1 small red bell pepper, thinly sliced
1 small orange or yellow bell pepper, thinly sliced
5 large thyme sprigs
3 garlic cloves, minced
½ cup dry rosé or white wine
½ teaspoon sherry vinegar, more to taste
From Your Pantry
½ teaspoon kosher salt, more for seasoning
½ teaspoon black pepper, more for seasoning
½ teaspoon sweet paprika
6 tablespoons extra virgin olive oil, more as needed


Method
1. Season mackerel with salt, black pepper and paprika. Let fillets rest at room temperature while preparing vegetables.

2. Set a large skillet over medium heat and add 5 tablespoons oil. Then add leeks, carrots, bell peppers and thyme, cooking them until they soften, about 10 to 12 minutes. Add garlic, stirring gently, and cook for 2 minutes more. Add wine and cook until most of liquid has evaporated, about 7 minutes. Season to taste with more salt, pepper and sherry vinegar, then transfer to one side of a serving platter.

3. Wipe the skillet with a paper towel, add remaining oil, and set over high heat. When oil is hot, add mackerel in one layer, skin side down. Cook for 3 minutes, then flip and cook for 1 to 2 minutes longer, until fish is cooked through. Add fillets to platter and spoon vegetables on top of fish.
$65.10
For one of each item
$65.10
For one of each item