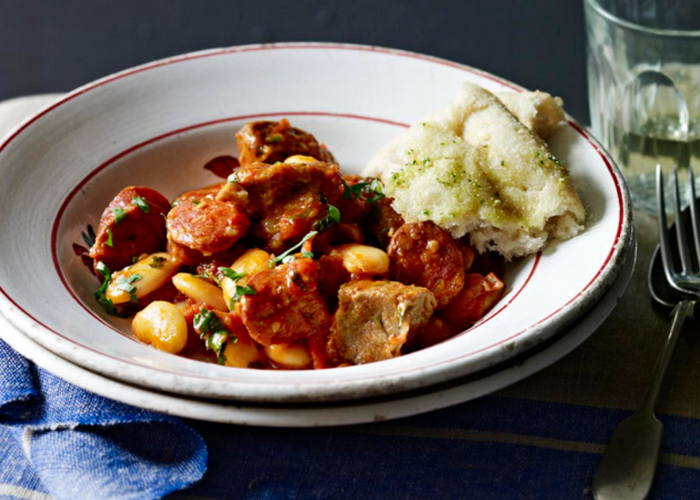 This stew is comforting, flavourful and definitely something you need try. 
Serves 6 | Time Required: 1 hour 30 mins
INGREDIENTS
600g Iberico Pork Pluma, cut into serving pieces
150g Spanish Fermin Chorizo Iberico, cut into serving pieces
1 medium onion, sliced
75ml Mount Brown Estate Pinot Gris
400g finely chopped canned tomatoes
From Your Pantry
1 bird's-eye chilli, seeds removed, flesh chopped
2
garlic
cloves, finely chopped 
200g canned butter beans, rinsed and drained
2-3 tbsp chopped fresh parsley
METHOD
Heat the oil in a large pan over a medium heat, add the pork pieces and fry for 4-5 minutes, or until browned on the outside but not completely cooked through, then remove from the pan and set aside to rest on a warm plate.

Add the chorizo to the pan the pork was fried in and fry for 3-4 minutes, or until crisp and golden-brown. Remove from the pan and set aside with the pork.

Add the onion and chilli to the same pan and fry for 2-3 minutes, or until softened.

Add the garlic and the wine and bring the mixture to a simmer. Simmer for 2-3 minutes, or until the volume of liquid has reduced by a quarter.

Add the chopped tomatoes and the butter beans, then return the cooked pork and chorizo to the pan and stir well.

Bring the mixture to a gentle simmer over a low heat, cover the pan with a lid and cook for at least 45 minutes, or until the sauce has thickened and reduced in volume. Add a few tablespoons of water to the simmering mixture now and again, as necessary, when the sauce becomes too dry.

Just before serving, sprinkle over the parsley and stir in the honey and season, to taste, with salt and freshly ground black pepper, as necessary.

To serve, spoon some of the pork stew into the centre of each of six serving plates. Place a portion of garlic bread alongside each serving.
Recipe and Image Credit: BBC Food
$23.40
For one of each item
$23.40
For one of each item