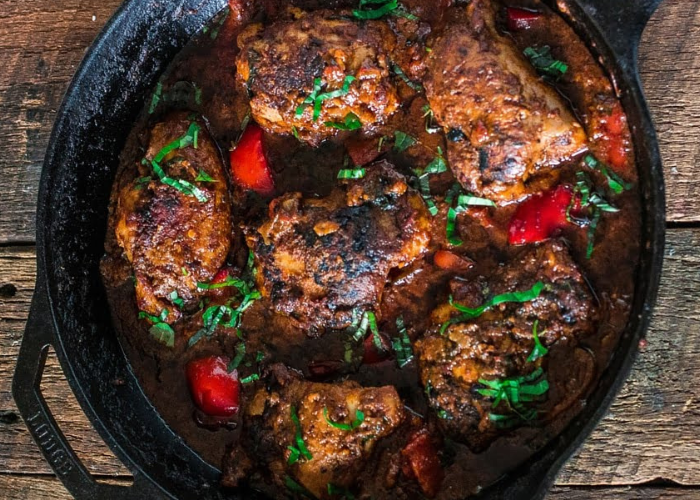 If you love Italian food, you will definitely love this Chicken Cacciatore recipe. It is hearty and flavorful, with amazingly succulent chicken.
Serves 8 | Time Required: 45 mins
INGREDIENTS
1 cup flour 
1 tablespoon dried oregano
Chopped fresh basil leaves to taste
METHOD
Season the chicken thighs with salt and pepper and dredge them into the flour to coat.
In a large saute pan, or cast iron skillet, heat the olive oil over medium high heat and, once hot, cook the chicken thighs until browned (about 3 minutes per side). Remove the chicken from the pan and reserve.
Add more olive oil to the pan, if necessary, and sauté the onion and garlic until translucent (about 2 minutes). Add the peppers and continue sautéing until tender (about 2 more minutes). Season with salt and pepper.
Add the white wine and cook, scrapping all the browned bits from the bottom, until almost all gone.
Add the marinara sauce, chicken broth, oregano and stir to combine.
Add back the chicken and once the sauce is boiling again, bring it to a simmer (medium-low heat), cover and cook for 30 minutes or until the chicken is cooked through and tender.
Transfer the chicken to a serving dish and spoon the sauce over it, then sprinkle the chopped basil and serve.
Recipe and Image Credit: Olivia's Cuisine
$34.80
For one of each item
$34.80
For one of each item