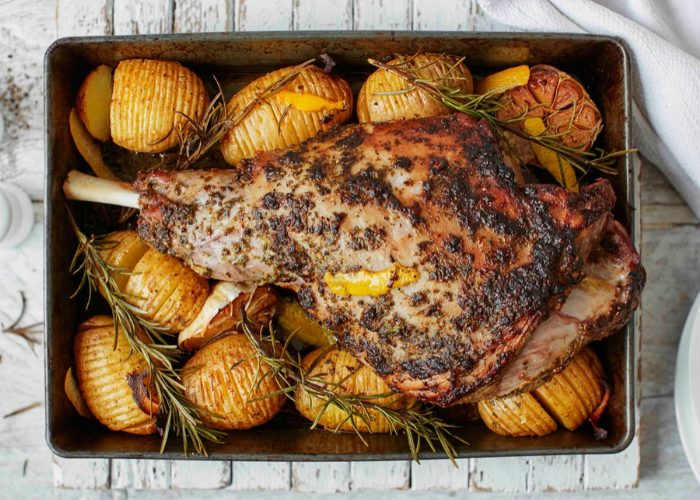 Serves 6
INGREDIENTS

1.8 kg Lamb Leg, Bone In
3 garlic cloves, crushed
3 sprigs rosemary, finely chopped
½ a lemon, juiced
1 pack Chat Potatoes (~1kg)
2 onions
250ml Our Very Own Chicken Stock
From Your Pantry
Salt
and freshly grounded black pepper
METHOD
Make sure you remove the lamb leg from the fridge about an hour before preparing so that it can come up to room temperature.
Preheat the oven to 210°C. Make slashes 1-2cm deep all over the lamb leg with a sharp-pointed knife.

In a bowl, mix the crushed garlic with the rosemary, a good grind of black pepper, the olive oil and lemon juice to make a paste.

Push the paste into the slashes in the lamb leg. Make sure you use all the paste.

Peel and thinly slice the potatoes and onions. Toss in a bowl with salt and pepper and a little olive oil. Place in the base of a roasting tray in which the lamb can fit so you have a thin layer. Pour the chicken stock on top.

Place the lamb on the potatoes and pop into the hot oven for 30 minutes. Turn the oven down to 190C for a further 30 minutes. Remove the lamb from the oven and wrap in foil. Allow it to rest for at least 30 minutes. These timings result in pink meat; add another 20 minutes per kg if your leg is larger.

Serve with a side of green vegetables.

 
Recipe credits: The Guardian
$150.80
For one of each item
$150.80
For one of each item