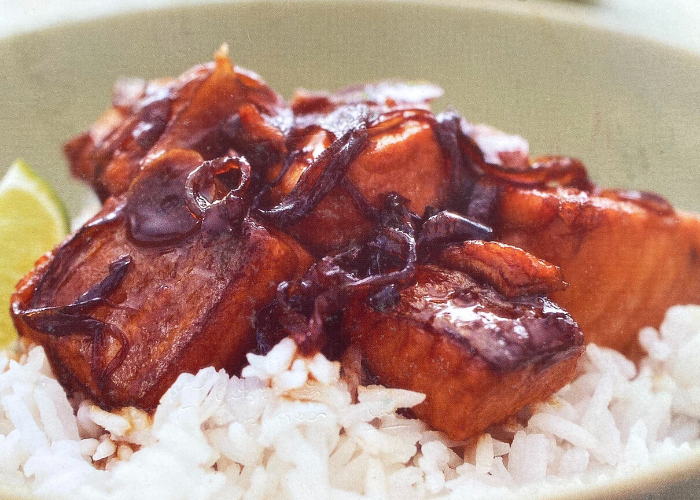 Serves 4
INGREDIENTS
1 tbsp Extra Virgin Olive Oil
800g Mt. Cook Alpine New Zealand Salmon Portions Skin-on (5 to 6 fillets), cut into large cubes
1 red onion, sliced
3 garlic cloves, sliced
115g soft brown sugar
3 tbsp fish sauce
Freshly ground black pepper
1 tbsp lime juice
To serve:
Wholegrain brown rice 
Lime wedges
METHOD
Heat the oil in a large frying pan over high heat. Add the salmon in two batches and cook each batch for a couple of minutes until lightly browned. Turn over and cook the other side for 1 minute, then remove from the pan.
Reduce the heat to medium and add a little extra oil to the pan, if needed. Add the onion and garlic and cook for 3 minutes, stirring occasionally. Stir in the soy sauce, sugar and fish sauce. Return the salmon to the pan and cook for 1 minute, or until the sauce is rich, dark and syrupy. Sprinkle liberally with black pepper and stir through the lime juice.
Serve with steamed rice, with a little sauce drizzled over the top and lime wedges.