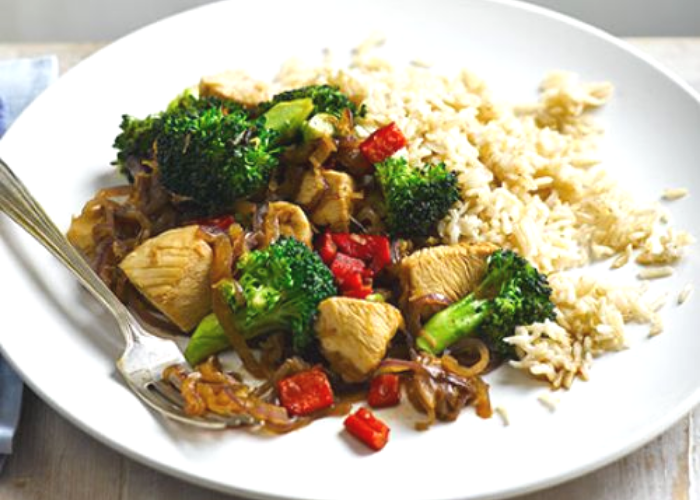 Serves 2
INGREDIENTS
200g trimmed broccoli florets, halved
1 Local Organic Chicken Breasts, diced
15g ginger, cut into shreds
2 garlic cloves, cut into shreds
1 red onion, sliced
1 roasted red pepper, cut into cubes 
2 tsp Oilala Extra Vigin Olive Oil
1 tsp mild chilli powder
1 tbsp tamari sauce
1 tbsp honey
Brown rice
METHOD
Put the kettle on to boil and tip the broccoli into a medium pan ready to go on the heat. Pour the water over the broccoli then boil for 2 mins.
Heat the olive oil in a non-stick wok and stir-fry the ginger, garlic and onion for 2 mins, add the mild chilli powder and stir briefly.
Add the chicken and stir-fry for 2 mins more. Drain the broccoli and reserve the water.
Tip the broccoli into the wok with the soy, honey, red pepper and 4 tbsp broccoli water then cook until heated through.
Meanwhile, cook the rice and serve with the stir-fry.
Recipe and image credits: BBC Good Food