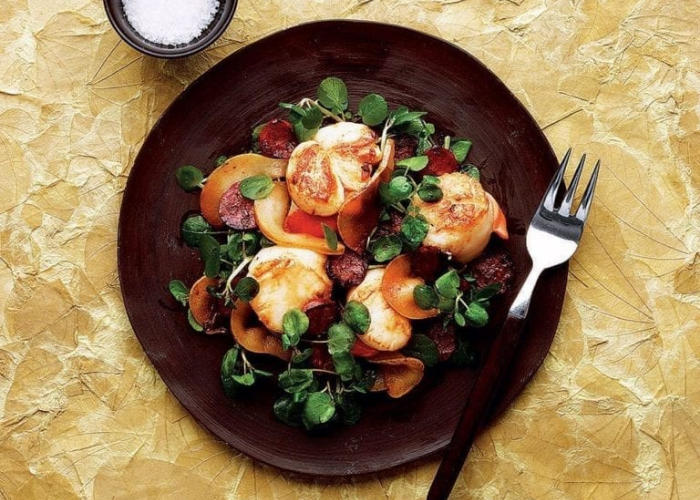 Serves 4. Ready in 20 minutes.
Ingredients
100g Spanish Fermin Chorizo Iberico, skinned and thinly sliced
12 Canadian Scallops
2 medium, firm pears, cored and thinly sliced
A handful of arugula or watercress
From Your Pantry
1 tbsp extra virgin olive oil
1 tbsp white wine vinegar
Method
Gently heat a non-stick frying pan. When hot, add the chorizo and dry-fry until just beginning to brown – it will release its own oil after 30 seconds or so. Remove with a slotted spoon and set aside on kitchen paper.
Add the scallops to the pan and sear in the chorizo oil for about 1 minute on each side. Remove and set aside with the chorizo.
Finally, add the pear slices and fry quite briskly to caramelise a little. Once you have turned them, add the vinegar and swirl the pears around in it for a few seconds, then tip it all into a bowl. Add the scallops, chorizo, arugula or watercress and oil. Season with salt (not pepper in case the chorizo has a kick of its own). Serve immediately.
 Recipe and Image credit: Delicious Magazine
$42.70
For one of each item
$42.70
For one of each item