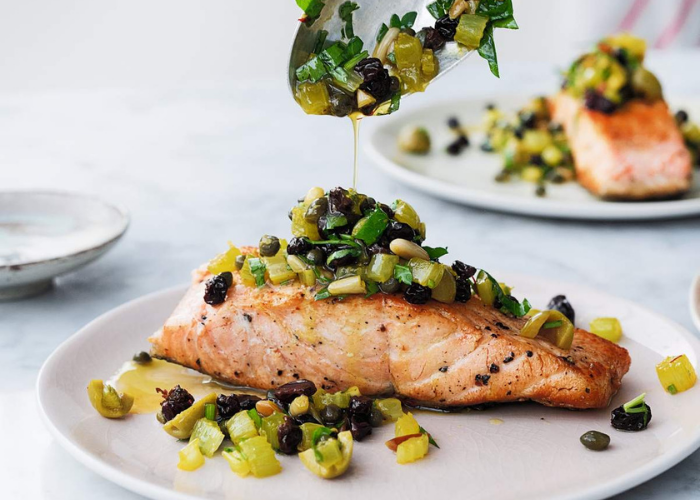 INGREDIENTS
100g currants
4 fillets Mt. Cook Alpine New Zealand Salmon Portions, Skin On
100ml Extra Virgin Olive Oil
Sea salt and black pepper
4 celery sticks, cut into 1cm dice
30g pine nuts, roughly chopped
40g capers, plus 2 tbsp of their brine
40g large green olives (about 8 in total), pitted and cut into 1cm dice
20g parsley leaves, roughly chopped
1 lemon – zest finely grated, to get 1 tsp, then juiced, to get 1 tsp
METHOD
Soak the currants in boiling water for 20 minutes
Marinate the salmon with two teaspoons of oil, three teaspoons of salt and a good grind of pepper.
Heat 75ml olive oil in a large pan on a high-heat, add the celery and pine nuts, and stir fry for four to five minutes until the nuts begin to brown.
Turn off the heat and stir in the capers and their brine, the olives and a pinch of salt. Drain the currants and add these with the parsley, lemon zest and lemon juice.
Heat the oil on a medium-high heat and once hot, lay in the salmon fillets skin side down and fry for three minutes, until the skin is crisp. Turn down the heat, flip over the fillets and fry for two to four minutes more.
Serve with the salsa.
Recipe adapted from an Ottolenghi recipe
Image credit: The Guardian