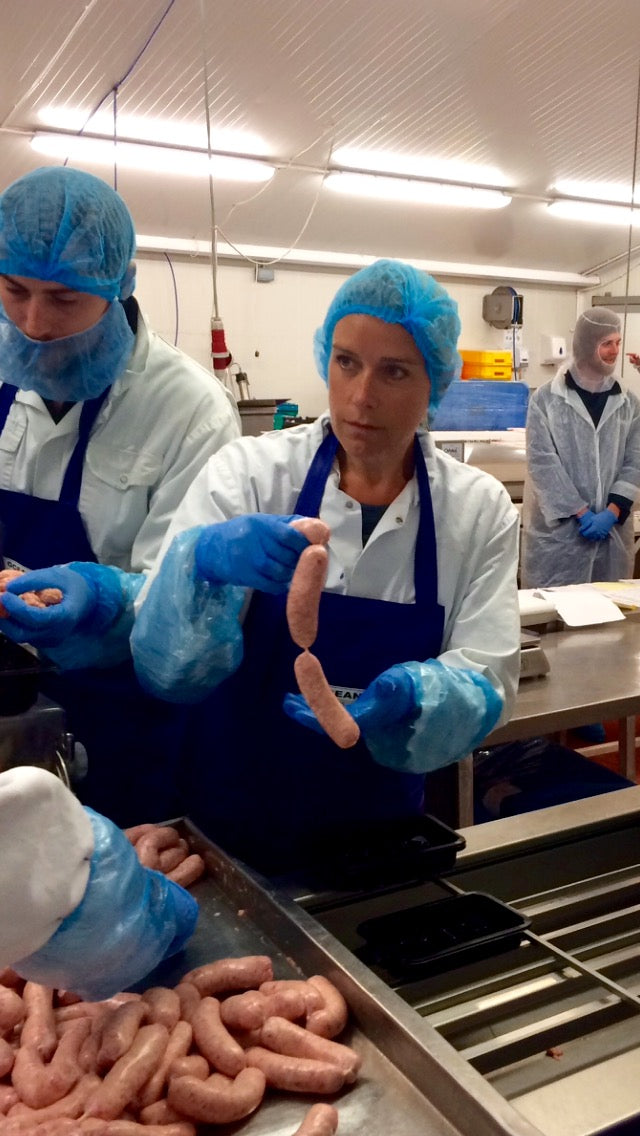 I'm back in sunny England at the moment, visiting both new and long-standing suppliers. I'm thrilled as always to have spent yesterday with Fergus and his team at Wicks Manor Farm, home of our fabulous pork range.  
I brought two of my kids along this time, which was a lot of fun, especially watching their faces as they donned their glam production outfits to learn the art of sausage making. They absolutely loved the whole process, despite their initial "am-I-seriously-doing-this" expressions (just take a look at my daughter's face!). They also got to work on the actual grain crop farmed directly at Wicks Manor, which is used to feed the animals and, needless to say, lunchtime with the pigs was an additional source of much laughter.  
The sun was splitting the stones as the pigs trotted about from their comfy sheds to the paddock where they played and lolled about. The animals are so well treated by the team who take such great pride in their work. It really is a labour of love and I'm very happy to know I'm buying from farmers who truly respect the animals and the entire process that goes into providing us with such great products.
Exposing my children to the importance of animal welfare and how good food should be produced is something I feel strongly about. They certainly came away with a better appreciation of why I work so hard to find these products and bring them to your homes.