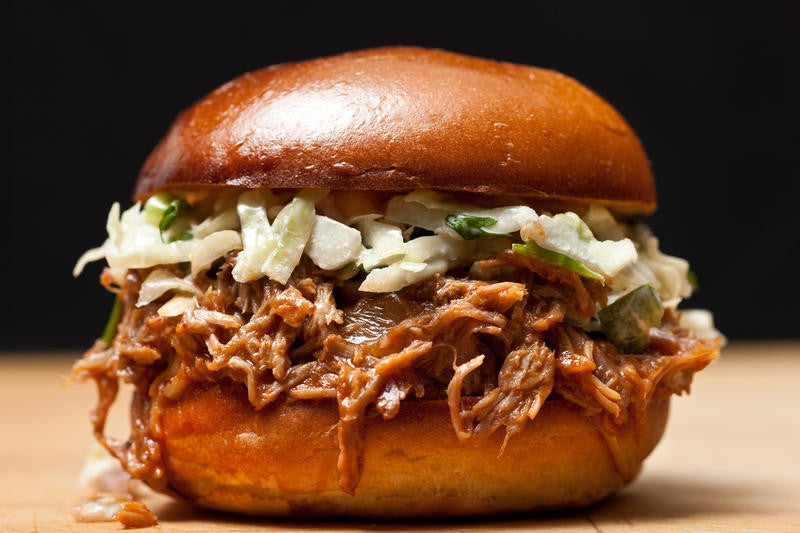 I only recently discovered the joys of pulled pork, one of those "new" meats that seems to be everywhere at the moment. I was eager to give it a try, but always put it off because I assumed (wrongly!) this would be a really complicated dish to make. The good news is it's super simple; the trick is in cooking it very slowly on a low heat, but I guarantee you the results will far outweigh the requirement for several hours' cooking time.  
So, three tips based on my own experience trying this. Firstly, the aroma of this cooking will be enough to bring anyone in your home scurrying to the kitchen to ask what's cooking and demanding you to hurry up - it's really divine. Secondly, don't expect the cooked results to hang around too long - the pulled pork disappeared within a few hours in my house as everyone impatiently stuffed it into sandwiches and just picked away at it straight from the fridge. Thirdly, you'll need time - at least six hours' cooking at a low temperature, but it's a one-pot wonder and doesn't really require babysitting, so once it's "in", you can pretty much walk away.  
I expected prepping this to be time consuming given how amazing it smells and tastes, but I was delighted to discover it's actually really straightforward. I promise everyone will love it, even those who aren't huge pork fans. So, I invite you to try this Chowhound recipe for Easy Slow Cooker Pulled Pork. All you'll need to do is coat the pork in a spice rub (dark brown sugar, chilli powder, cumin, and cinnamon) and cook it on a bed of garlic and onions moistened with chicken broth.  
I really hope you enjoy this as much as we did. We'd love to see how you get on if you decide to give this recipe a go, so feel free to share any pics with on Instagram (@sashasfinefoods)