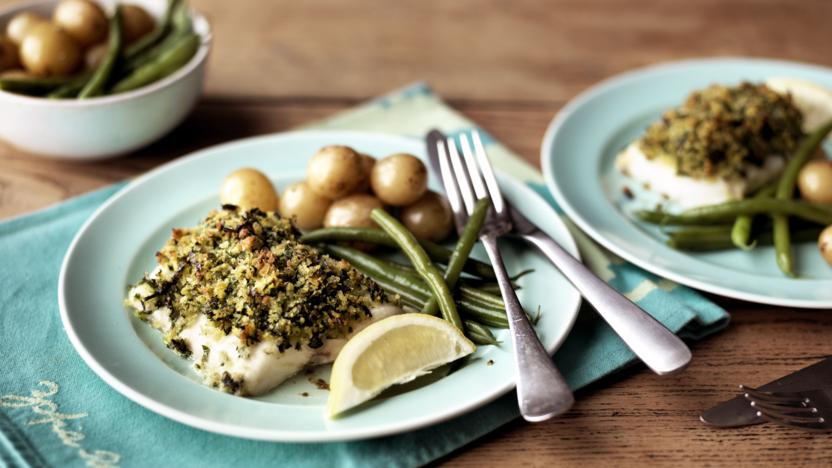 Ingredients

2 x 180g/6oz pieces of
Cod
2 tbsp fresh white breadcrumbs
2 tbsp chopped fresh herbs (such as a mixture of thyme, parsley, coriander) - optional 
1 clove 
garlic
, crushed finely
From Your Pantry
2 tbsp olive oil
Salt and freshly ground black pepper
Method
Heat the oven to 200C/180C Fan/Gas 6.
Mix together the herbs (if using), garlic and oil. Stir in the breadcrumbs and season with salt and pepper. Put the fish on a baking sheet and spread the breadcrumb mixture over the fish. Bake in the oven for 10-15 minutes until the flesh becomes opaque and flakes easily.
Boil the potatoes in a large pan of water for 12-15 minutes, until cooked through. Boil the peas in a separate pan of water for a few minutes until just cooked. Then I like to add a dollop of butter on my potatoes!
Take the cod out of the oven and serve with the potatoes and peas.
Recipe credits to BBC Food Recipe
$31.30
For one of each item
$31.30
For one of each item