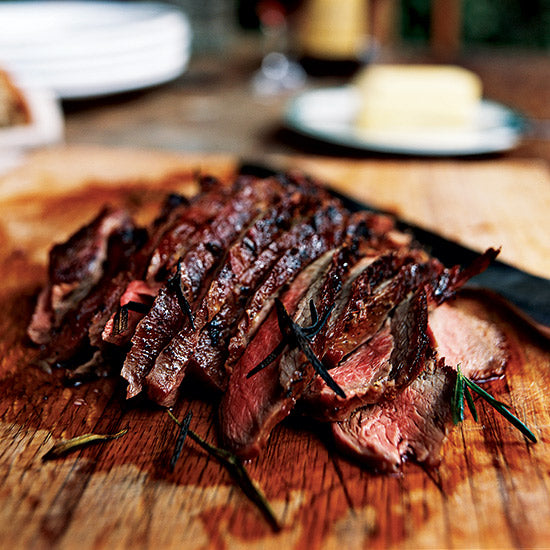 The butterflied leg of lamb is an excellent choice for any cook willing to forgo the more obvious cuts in the name of ease and speed. Packed with flavour and tenderness, you can have this on the table in under an hour. Add a few ingredients and some marinating time and you will have a memorable meal that will taste truly delicious.
Adapted from a recipe from Delicious.
Ingredients
1 Butterflied Leg of Lamb (this recipe is for a 2kg leg but just adapt the timings depending on the weight you buy)
2 large garlic cloves, chopped
1 long red chilli, seeds removed, finely chopped
1 tsp chopped fresh rosemary leaves
6 fresh thyme sprigs, leaves picked
1 fresh bay leaf
Grated rind and juice of 1/2 lemon
1/2 cup (125ml) olive oil
Seasoning
Method
Combine all ingredients with 1 teaspoon of salt and 1/2 teaspoon of coarsely ground black pepper in a shallow roasting pan. Add the butterflied leg of lamb and turn to coat well. Cover and leave to marinade in the fridge for at least 1 hour (the longer the better).

If using a charcoal barbecue, light it about 40 minutes before you want to start cooking. If using a gas barbecue, light it about 10 minutes before you start cooking. A leg of lamb has a good deal of fat, so be careful to avoid too many flare-ups when barbecuing, which could cause the meat to burn.

Cook lamb on the hot barbecue grill for 10-12 minutes on each side, turning and moving frequently. Alternatively, barbecue the lamb for 5-7 minutes on each side until well coloured, then transfer to a roasting pan and roast for 20-25 minutes in an oven preheated to 200°C.

Transfer the lamb to a board, cover with foil and rest for 5 minutes. Slice the lamb thickly and serve with some of the juices.