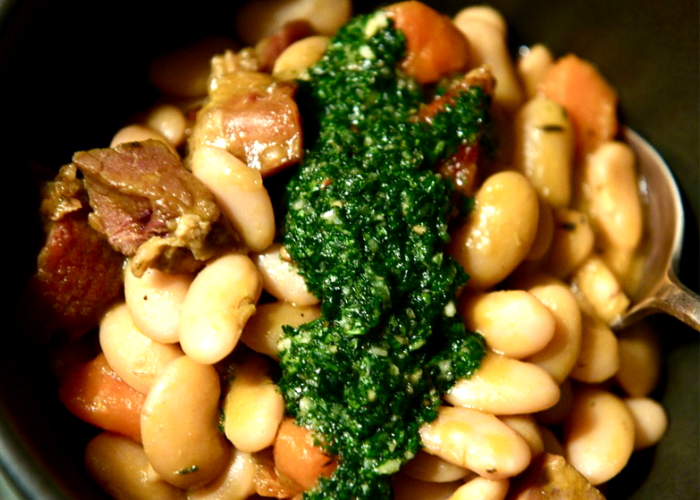 Serves 4
INGREDIENTS
400g dried butter beans
1 tbsp olive oil
2 shallots, diced
2 garlic cloves, minced
12 peppercorns
7 juniper berries
2 bay leaves
1 litre vegetable stock
225g leftover ham, chopped
Salt, to taste
For the pistou:
Small bunch flat leaf parsley, densely packed
1 tbsp fresh rosemary, de-stemmed
1 tbsp pine nuts, toasted
1 garlic clove
½ tsp salt
½ tsp lemon zest
150ml olive oil
1 tbsp finely grated parmesan
METHOD
Soak the beans overnight in cold water, or in boiling water for at least 4 hours.
Next, prepare the pistou. Pulse the parsley, rosemary, pine nuts, garlic, salt, lemon zest and oil in a blender or food processor. Leave the mixture a little bit chunky in texture. Stir in the cheese. It should have the consistency of a loose pesto, and can be stored in the fridge for several days.
Discard the bean water. In a lidded casserole dish, heat the olive oil and fry the shallots and garlic until lightly browned. Add the remaining ingredients and stir until they have been evenly coated in the oil. Pour in the stock and bring briefly to a boil, then reduce to a simmer and cook partially covered until the beans are soft, about 1 hour.
For a soupier consistency, add more stock as it begins to be absorbed. You may need to add a bit of salt if your ham did not impart enough. Serve with a couple of spoonfuls of the pistou.
Recipe credit: Laura Silverman