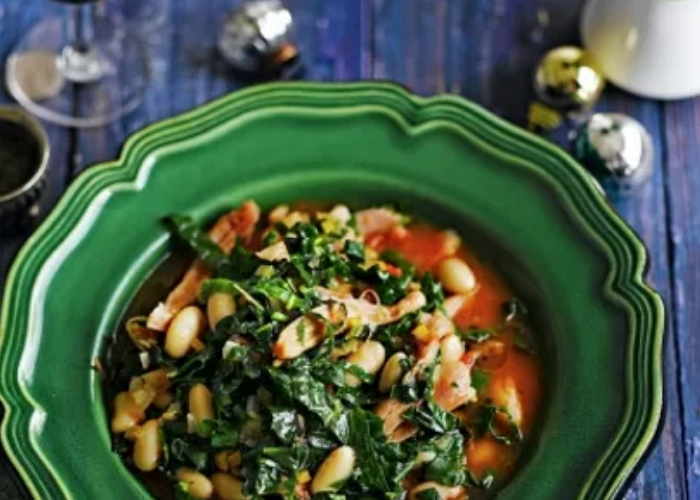 Serves 6
INGREDIENTS
1 onion
2 cloves of garlic
2 sticks of celery
1 carrot
Olive oil
2 teaspoons fennel seeds
400g finely chopped tomatoes
400g cannellini beans
750ml vegetable stock 
300g kale
100 g spinach
150g cooked ham
METHOD
Peel the onion and garlic, then finely chop along with the celery and carrot.
Heat a drizzle of oil in a large pan over a medium heat, add the chopped veg and fennel seeds, and season. Cook, covered, over a low heat for 10 minutes, until golden brown, stirring regularly.
Reserving half the cannellini beans to one side, mash the rest and add them to the pan along with the liquid from the tin, the tomatoes and the stock. Carry on simmering for another 10 minutes.
Chop and stir in the kale and spinach. Tear the ham into rough chunks and add along with the remaining beans.
Simmer until the greens have cooked down and you have a lovely thick stew.
Recipe credit: Jamie Oliver