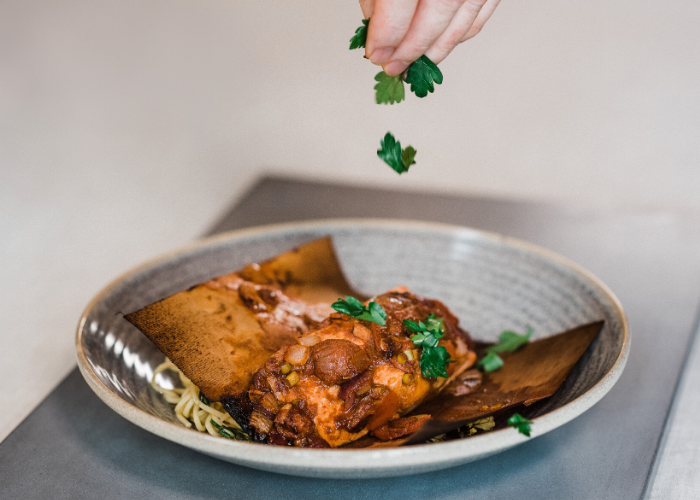 Serves 4

INGREDIENTS FOR SAUCE

235g roast red bell pepper
235g red grape tomatoes
1 tbsp fresh coriander leaves
2 tbsp chopped garlic chives (substitute with 3 garlic cloves)
1 level tsp ground cumin seed
1 heaped tsp sweet paprika
1 level tsp ground black pepper
1 pinch of chilli flakes (or to taste)
2 tbsp of cooking oil
juice of ½ a lemon
1 tbsp white wine vinegar
INGREDIENTS FOR WRAP
4 Mt. Cook Alpine New Zealand Salmon Portions Skin-on
4 sheets of cedar wrap
METHOD
For the sauce:

1. Sweat (cook without browning) the spices in the oil on low heat for about 5 minutes.

2. Add the roast pepper, tomatoes, vinegar and lemon juice.

3. Cook until tomatoes are soft. Remove from heat.

4. Add the garlic chives and coriander.

5. Salt to taste.
For the wrap: 

1. Soak cedar wrap in water for 30 minutes. Oil one side of the cedar paper and season salmon with salt and pepper.
2. Place the salmon on top of the cedar wrap and add a tablespoon of the sauce to the top of the salmon before enclosing and tying off. Roll up and tie with twine.
3. Cook in a preheated oven at 220°C for 8-12 minutes, keep a spray bottle of water in case the wood catches light! Serve with cous cous and steamed green vegetables.
Recipe Credit: Mt. Cook Alpine Salmon