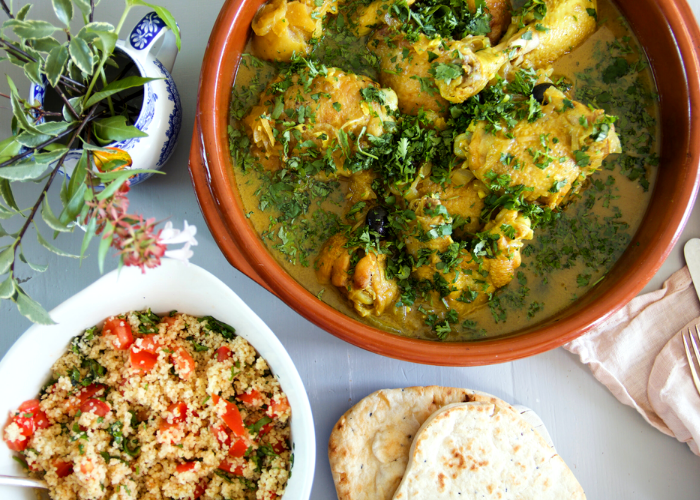 Serves 4
INGREDIENTS
½ tsp saffron threads, crushed
250ml Our Very Own Chicken stock, warmed
3 tbsp Vasse Virgin Mild & Delicate Cold Pressed Extra Virgin Olive Oil
3 onions, chopped
1 tsp ground ginger
1 tsp ground cumin
3 garlic cloves, crushed
1 Free Range Whole Chicken, jointed
1 tsp black peppercorns, crushed
4 small preserved lemons, quartered, or 2 larger ones, chopped
The juice of two lemons
100g black olives
A generous handful each of chopped coriander and flat leaf parsley leaves
METHOD
1. Add the saffron threads to the warmed chicken stock, then set aside to infuse.

2. In a tagine (or heavy-bottomed lidded casserole dish), heat the olive oil and cook the onions until soft. This can take up to 15 minutes. Next, add the cumin, ginger and garlic and fry on a low heat for a couple of minutes.

3. Meanwhile, once you've jointed your chicken (find out how here), fry it in a separate pan for about 8 minutes to brown the skin evenly. Then add it to your tagine or casserole dish. Stir to coat with the onion and spices then sprinkle in the crushed peppercorns and add the lemons and your delicious saffron-infused stock.

4. Bring to a gentle simmer, then cover and cook on a low heat for an hour, or until the chicken is cooked through and beginning to fall off the bone.

5. Add your olives of choice and continue to simmer for another ten minutes. Take off the heat and stir in the chopped coriander, parsley and fresh lemon juice just before serving.
This dish goes well with a variety of accompaniments. Serve with flatbreads, potatoes or rice and a green salad. 
Recipe and image credit: Sutton Hoo