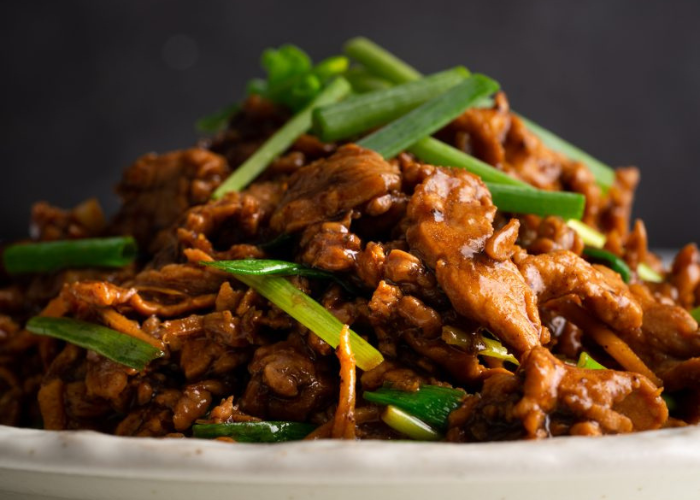 Ingredients
250g pork Stir Fry
2 tbsp Chinese Shaoxing wine
1 tsp Homemade Chinese five spice 
3 garlic cloves, roughly chopped
4cm (1.6 inch) piece ginger, sliced into fine matchsticks
6 spring onions, sliced into batons 
steamed rice
From your pantry:
2 tbsp light soy sauce
2 tbsp oyster sauce
2 ½ tbsp Olive oil
½ tsp sugar
2 tsp dark soy sauce
Marinade
1 tsp finely grated ginger
1 tbsp soy sauce
½ tsp ground pepper
2 tsp cornflour (cornstarch)
½ tsp baking soda
Method
Marinade the the pork in a large bowl, using the marinade ingredients. 
Make the stir-fry sauce by mixing together light soy sauce, oyster sauce, Chinese Shaoxing wine, dark soy sauce, Chinese five spice and sugar.
Heat the oil in a wok over medium heat. Add the garlic, ginger and the bottom parts of the spring onion stems and stir-fry for 30 seconds. Add the marinated pork and turn the heat to high. Allow to cook for a few seconds then stir-fry until almost cooked.
Add the stir-fry sauce and stir-fry for another 30 seconds or until the sauce thickens slightly and the pork is cooked through. Turn the heat off and toss through the green parts of the spring onion and the olive oil. Serve with rice and vegetables.
Adapted From: marionskitchen.com